First Look: 2015 Bowman Football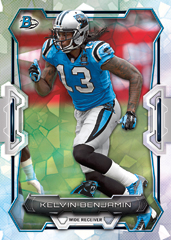 By Stephen Laroche | Beckett Media
A hobby favorite is back again as 2015 Bowman Football kicks off a big season for Topps with plenty of rookie and autograph content from the upcoming freshman class. With it being the final season that the company can feature members of the NFL Players' Association on cards, expect the company to put their best foot forward and this product is looking like a perfect place for them to start.
Scheduled for a June 17 release, Bowman will live up to its reputation as the Home of the Rookie Card with 110 new players making their Topps debut in this set. Of that group, at least 80 of them are expected to sign autographs and provide some potentially solid content in each hobby box.
What can collectors expect to find in packs of 2015 Bowman Football? Find out more after the jump.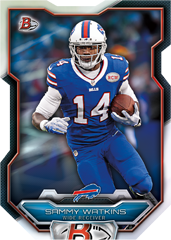 The base set will once again be broken up into four collectible sections that will have a rainbow of parallels as well. The most common of those coming out of packs will be the Rookie Paper and Veteran Paper cards (up to 110 of each) and the hobby exclusive Black Bordered versions are seeded four per pack for rookies and twice for vets. Both of the sets will have additional serial-numbered parallels with Blue, Gold, Orange, Red (#'d to 25 for veterans) and Green (one-of-ones for veterans) borders. There is also a Silver bordered variation for the rookies that sees just one copy of each player placed into packs.
The Rookie Rainbow Foil and Rainbow Veteran Foil cards will see up to different 220 cards produced and are found once in every hobby pack. There is a Silver parallel that will be limited, but the Blue, Gold, Orange, Orange Ice, Red Bordered (#'d to 25 for veterans) and Gridiron Ice (one-of-ones exclusive to hobby packs) editions will be numbered. There are also some versions that are exclusive to the Rookie Rainbows, including Electric Yellow and Green Bordered (one-of-ones). Printing Plates will only be found in the hobby stream and are one-of-one collectibles that are sure to be coveted.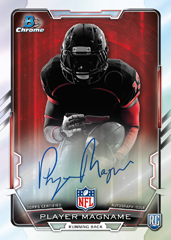 The biggest chase for many collectors will be the Rookie Chrome Refractor Autographs and they are all expected to be hard-signed. Topps is expecting up to 80 prospects to be a part of this collection and there is a strong group of parallels that include Blue, Gold and Orange Refractors. Things start to get seriously limited from there with hobby-only Red Wave Refractors (#'d to 25), X-Fractors (#'d to 10) and Prism Refractors (#'d to 5) plus one-of-one Superfractors and Printing Plates.
Rookie collectors who love a vintage look are going to be interested in the Bowman Minis (one per pack) that will feature up to 110 new recruits on the iconic 1948 Bowman Football design. Like the Rookie Chrome Autographs, up to 80 of those players will putting the pen to a signed version that will have a truly tough Red Ink parallel limited to just five copies.
Parallel hunters that appreciate something a bit different are going to be pleased with the Bowman Die-Cuts, which are expected to pop up three times in a hobby box. Printed on an all-new foilboard with a die-cut perimeter, there are up to 50 different cards to collect and they will also have a serial-numbered Blue and Red (one-of-one) parallels. Additionally, some players (up to 15) will have an Autograph version.
Topps offers up a strong selection of veteran talent in the Bowman Relics that fall once per box. Like the rest of the product, expect to find several numbered parallel versions that come in Blue, Gold, Orange and Red (one-of-one). Hobby packs may also contain exclusive Printing Plates that are one-of-one treasures.
Each 25-card pack of 2015 Bowman Football will contain one mini parallel card and an additional hit on average. A 10-pack box is expected to yield four signed rookie cards, a veteran relic, three Bowman Die-Cuts and two Silver Ice parallels. As a special bonus, Topps will also be inserting Under Armour All America Football Game Autographs which were produced and signed at the 2010 contest. They will be incremental hits and serve as a special bonus for collectors.
Stephen Laroche is the editor of Beckett Hockey and Beckett Basketball magazines. Have a comment, question or idea? Send an e-mail to him at SLaroche@beckett.com. Follow him on Twitter @Stephen_Laroche.