2015 Bowman Draft Baseball Details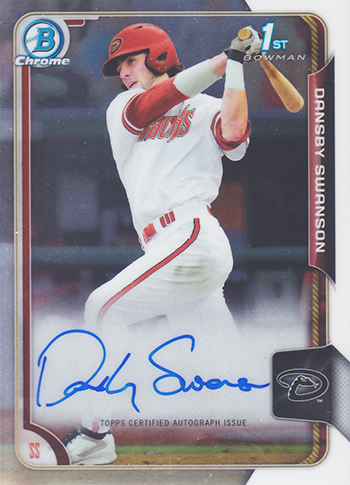 By Chris Olds
Reinvigorated. That's one word that Topps used to describe 2015 Bowman Draft Baseball.
What will make it so? "Additional insert subsets, compelling prospect content and a variety of Chrome autograph cards," according to the company.
Just like in the past, though, every 24-pack hobby box will include one autographed card.
Click here for a sortable 2015 Bowman Draft Baseball checklist and price guide access.
The base set consists of 200 cards with lots of parallels — Blue (/150), Green (/99), Gold (/50), Orange (/25), Red (/5) and 1/1 Metallic and printing plate versions. The Chrome cards have nine parallels for the same 200 cards — Refractors, Sky Blue Refractors, Blue (/150), Green (/99), Gold (/50), Orange (/25), Red (/5) and 1/1 Superfractors and printing plates. In addition to these, there are a couple of parallels that are exclusive to boxes sold in Asia.
New for this year are Teams of Tomorrow die-cuts that pair new draft picks with prospects in the organization. They have Gold (/50), Orange (/25), Red (/5) and 1/1 Superfractors. Draft Dividends inserts showcase players who were drafted out of high school but opted for college and were drafted a second time. These cards have autographed versions along with an Orange (/25) and Red (/5) parallel.
On the autograph front, the signers all have on-card autos with a rainbow that includes many additional versions to chase — Refractors, Purple (/250), Green (/99), Gold (/50), Orange (/25), Red (/5) and 1/1 plates and Superfractors. The focus of the autograph signers is on top picks from the 2015 draft. All but a handful are included on the checklist. This includes first overall pick Dansby Swanson.
Another option for autograph fans are Prime Pairings autos that put two player onto one card along with All-America game autos. The All-American autos from various past all-star events will also have a 1/1 gold-frame parallel.
Among the inserts are Draft Night cards — this time with Orange and Red versions — as well as Top of the Class box-topper where there will be autographs (/25) and three other versions to be found. They are Orange Wave (/25), Red Wave (/5) and 1/1 Supers.
Also back are Futures Game Relics for players in the mid-summer event with those cards having Orange parallels limited to only 25 copies.
2015 Bowman Draft Baseball at a glance:
Packs per hobby box: 24
Cards per pack: 7
Boxes per case: 12
Set size: 200 cards
Release date: December 9, 2015
What to expect in a hobby box:
Chris Olds can be found on Twitter by clicking here.