2015-16 Upper Deck Series 1 Hockey Details
The countdown to Connor McDavid rookie cards has officially begun as details have surfaced on what collectors can expect to find in packs of 2015-16 Upper Deck Series 1 Hockey. While all products are certain to have their sales driven by the presence of the young phenom's cards, his Young Guns card will be the first in an Edmonton Oilers uniform that can be pulled from packs.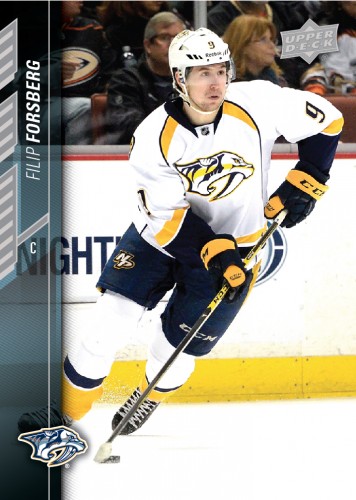 Once it is released this November, Upper Deck establishes a new hobby record by becoming the longest continually-running hockey card brand – a standard once held by O-Pee-Chee, which had a memorable 25-year run from 1968-69 to 1992-93. For many longtime collectors, this has been a perennial must-have and the Young Guns have become a hobby institution that no other hockey card manufacturer has been able to match.
It is expected that Upper Deck has put together a strong base set of 200 cards for 2015-16 and it has confirmed that the Exclusives and High Gloss parallels are back once again and limited to 100 and 10 copies respectively. There are 50 Young Guns that fall six times per hobby box along with four UD Canvas parallels which feature some of the top players from the regular set on matte stock along with different photography. Some UD Canvas may have an autographed version as well. Printing Plates will also exist and are one-of-ones.
Upper Deck's non-memorabilia insert program is once again strong with UD Portraits (4:box) and Shining Stars (4:box, including one Royal Blue parallel) leading the way. The UD portraits will also have a Platinum Blue variant which is numbered to 25 or less. Those wishing for a major challenge can collect the Clear Cut Superstars acetate cards, which will not be easy to pull.
As expected, there will be UD Game Jersey cards, but Upper Deck has decided to add more value to them with larger swatch windows. It should be noted that the odds for pulling one of these cards has changed from recent years and there will only be one per box. This is an interesting move as some collectors have bemoaned the presence of too many memorabilia cards in products and this may help create some demand on the secondary market. Also, UD Game Patch is a parallel version that is limited to just 15 copies. Those hoping for an additional chase will also appreciate the A Piece of History Relics which depict members of the 300 Win, 500 Goal and 1,000 Point clubs. Signed versions of these cards will also be issued and have historically been popular.