2015-16 Leaf In The Game Stickwork Hockey Details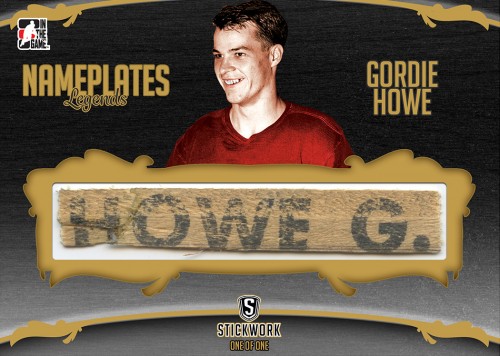 By Stephen Laroche | Beckett Hockey Editor
One of the hobby's most unexpected hits during the 2013-14 season was In The Game's first Stickwork product and since their assets fell under the umbrella of Leaf Trading Cards, many collectors have been wondering if a sequel was in the "works".
Leaf has taken some of the concepts from the first release and has added some new twists to the mix for 2015-16 Leaf In The Game Stickwork Hockey, which could garner some attention. A very limited release, each box contains three cards and draws from a large pool of game-used sticks from some of the greatest players in hockey history.
What can collectors expect to find in boxes of 2015-16 Leaf In The Game Stickwork? Find out after the jump.
Every card in Stickwork features pieces from the tools of the trade along with foil accents and the action begins with the basic Game-Used Stick set. Among the players included here are legends such as Gordie Howe, Maurice Richard and Wayne Gretzky and it should be noted that for players not under contract to Leaf, jersey mockups appear on the card. This is a definite improvement over the original release, which received criticism for utilizing generic silhouettes. This collection is naturally joined by Goalie Game-Used Stick, which also has a paddle parallel which comes from the widest part of stick and can potentially yield colorful pieces.
A new addition to the Stickwork lineup is Complete Stick and these three-swatch cards will include a regular stick swatch in addition to a piece of tape and the blade. Leaf will also reflect on the game's greatest point producers with Hockey History All-Time Goal Leaders and Hockey History All-Time Assist Leaders that contain two pieces of memorabilia while Face Off will pair up two scoring machines on the same card. Stick Rack was a long-standing feature in earlier In The Game releases and these multi-player cards will contain two, three, or four stick pieces and the combinations are often built on strong themes or pairings of iconic talents.
Tape Job will be returning for this product as well as Tape To Tape Duals. Both sets feature generous strips of game-used tape and should be very limited. The toughest hits of all are from Handles, which contain nameplates from big stars, and Lumbergraphs, an attractive set that has signatures from vintage sticks that came from some of the sport's all-time greats.
2015-16 Leaf In The Game Stickwork Hockey at a glance:
Cards per box: 3
Set size: n/a
Release date: November 20, 2015
What to expect in a box:
Memorabilia Cards – 3
Stephen Laroche is the editor of Beckett Hockey. Have a comment, question or idea? Send an e-mail to him at slaroche@beckett.com. Follow him on Twitter @Stephen_Laroche.