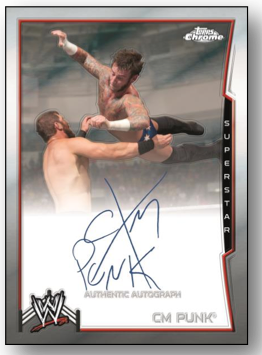 By Chris Olds | Beckett Sports Card Monthly Editor
Topps is reviving a tag-team that's not been done in more than a half-decade for its next wrestling card release.
It's pairing Chrome with the WWE.
For the first time since 2008's Heritage III Chrome release, a wrestling card set will be released with the preferred stock of many when 2014 WWE Chrome arrives on June 11.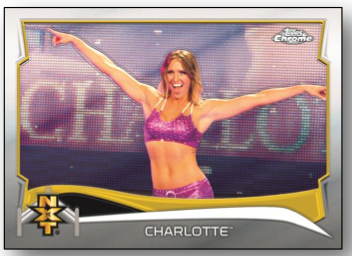 Each 24-pack hobby box will contain a selection of cards from the 110 card set along with inserts from a familiar lineup of Refractors (eight per box), Gold Refractors limited to 50, Red Refractors limited to 199 and 1/1 printing plates and Superfractors, too. Golds will be hobby-only inclusions for the parallels as well as the autographs.
Also on Chrome for the first time will be 20 NXT prospects, while inserts will include 10 Jerry Lawler's Legends  art cards and 50 WWE Champions Tributes cards.
A checklist and odds for autograph signers and Relics was not released, but among the lineup will Belt Relics (manufactured metal plate cards), on-card autographs with Red (/25), Gold (/10) and 1/1 Superfractor parallels, dual autos, kiss cards, autographed kiss cards, wrestler gear Relics and mat Relics, too. The mat will come from the 2013 Royal Rumble pay-per-view.
Insert cards will be found one in every other $2.99 pack overall. The company released an overall production estimate for the product with approximately 3,000 standard autographs, 20 dual autos and a total of 8,000 Relics to be included in the production run. The kiss cards will be limited to approximately 800 total cards, while the autos are limited to just 50.
Chris Olds is the editor of Beckett Baseball and Beckett Sports Card Monthly magazines. Have a comment, question or idea? Send an email to him at colds@beckett.com. Follow him on Twitter by clicking here.