First look: 2014 Topps Update baseball cards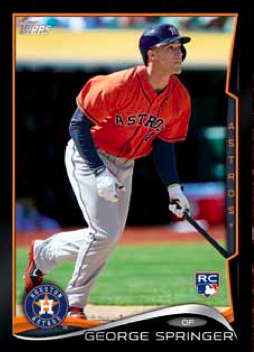 By Chris Olds | Beckett Baseball Editor
It's time for an update — 2014 Topps Update, that is.
Topps revealed the basic details and first images for its season-capping 2014 Topps Update set on Friday, a third installment of the flagship line and a hobby staple for years.
Set to arrive on Oct. 15 with and autograph or Relic in every 36-pack hobby box or one auto and two Relics in every 10-pack HTA Jumbo box, Update will present a continuation of the first two series along with cards of the newest names in the game and players in new places.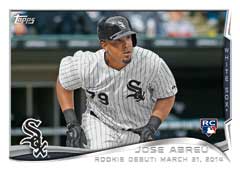 The base set will consist of 330 cards with subsets showcasing the MLB All-Star Game, the MLB Home Run Derby and a selection of Rookie Debut cards, which note a player's first game. This is the same as previous years. Each base card will have seven parallels as well as printing plates. Back will be the clear parallels printed on acetate and only found in the standard hobby packs with each of those limited to 10 copies. Other cards are Gold (/2,014), Green Camo (/99), Black (/63), Pink (/50), Red Hot and 1/1 Platinum and printing plates.
The insert card lineup for this one includes some new ones for 2014 with Power Players (six per box), Fond Farewells (four per), World Series Heroes (four per), The Future is Now (nine per) and 1989 Topps minis (four per) returning. The Power Players cards will have an autographed component for this series, which Topps previously announced.
For the autograph lineup in this one, there are several sets where the ink is limited to just 25 copies or less. Trajectory autos return and are the only un-numbered autos, while Power Players, Fond Farewells, World Series Heroes, 1989 Topps minis and The Future is Now will all have inked versions. All of those are limited to just 25 except for the minis, which are limited to 10.
Autographed Relics have six sets in this one with all of them also heavily limited. There will be Strata Signature Relics (/25) Strata Cuts (/1), Future is Now (/10), Power Players (/10), Fond Farewells (/10) and World Series Heroes (/10) to be found.
For standard Relics, there are seven sets — Power Players, Fond Farewells, World Series Heroes, Future is Now, 1989 minis and Trajectory jumbos along with Own the Name patches. The patches will be a collection of 500 game-used patches with each being a 1/1 creation. Each of those sets, save for the patches and the Trajectory cards, are limited to just 99 copies.
The Mid-summer Classic coming in July will have a heavy presence in this one (as in previous years) via All-Star Relics and autos. There will be All-Star Stitches, which will also have Gold (/50) and 1/1 Platinum parallels, Auto Relics (/25), Jumbo Patches (/6), Jumbo Patch Autos (/6), duals (/25) and triples (/25).
Also back will be framed reprints — one per hobby case — with a 21-card Derek Jeter reprint offering. Each of those will have Silver (/25) and Gold (/10) versions. A set of gold-framed cards using the 2000 Gold Label design also will be placed into packs with that set highlighting past and present players. They'll be limited to 99 copies per card.
With an October arrival, of course the Fall Classic gets its due and that's found with a pair of manufactured Relic cards. The World Series trophy will be embedded into cards for 25 players with those limited to 99, while World Series rings will be emulated with Gold cards limited to 99, Gems versions limited to 25 and Gems autographs limited to just 10 copies.
A preliminary checklist was not released.
Chris Olds is the editor of Beckett Baseball and Beckett Sports Card Monthly magazines. Have a comment, question or idea? Send an email to him at colds@beckett.com. Follow him on Twitter by clicking here.