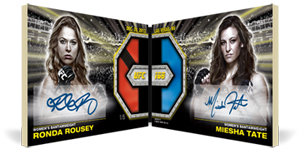 By Susan Lulgjuraj | Beckett Sports Card Monthly
Topps is coming out punching with 2014 UFC Knockout.
Each five-card pack will have one parallel and one hit, which could be an autograph, relic or autograph relic. Each box will have eight packs.
The base set will feature 100 UFC fighters of young stars, veterans and current champions. There will be Gold, Green and Red parallels. In addition, Topps has included 1-of-1 parallels such as Mat (printed on simulated mat stock) and Printing Plates.
The autograph lineup is extensive in 2014 Topps UFC Knockout. There are nearly a dozen different types of autographs, including parallels that collectors can pull: Notable Nicknames, Three of a Kind Triple Autographs, Knockout Autographs, Ultimate Inscription Autographs, UFC @autographs (Twitter handles included) and Autograph Glove Redemption cards.
All the autographs are sequentially numbered with many rare cards numbered to 25 or fewer.
The relic cards will feature pieces of fight mats and fighter-worn shirts or shorts. The relics will also highlight the nine 2013 UFC Champions on cards containing a piece of the mat they won their title on and a replica championship belt plate.
Topps is combining the two concepts with autographed relic cards. Collectors can find Dual Autographed Fight Mat Relics with two fighters on the card and more.
Topps is taking a page from its other sports and incorporating Triple Threads in 2014 UFC Knockout. The cards will feature Relics and Autographed Relics – along with a number of parallels.
Book cards will fall at a rate of one per case and many will use the Triple Threads treatment.
Once again, Fist-o-Graph box toppers will be included. They are numbered to just 10 copies.
UFC Knockout is scheduled to come out April 23.