First look: 2014 Topps Triple Threads baseball cards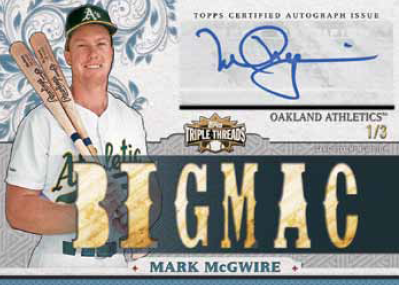 By Chris Olds | Beckett Baseball Editor
For the ninth straight year, Topps is readying Triple Threads with trios of Relics, trios of autos and, well, more high-end possibilities than ever.
When 2014 Topps Triple Threads arrives in hobby shops on Sept. 10, it will include familiar two pack options per box adopted in recent years. One pack will include three base cards, two parallels, a triple Relic and a Unity single-auto jumbo Relic. The other will have three base cards, two parallels a signed triple Relic and a jumbo Unity Relic. Each will be numbered to 36 or less or 99 or less depending on type.
New for this year will be Triple Hits — deluxe cards that have autographs, Relics and a handprint — while Triple Threads Transparencies will have a jumbo Relic and an auto on acetate. Triple Hits will be a redemption because of the size — and limited to 10 — while the Transparencies will be numbered to 25 with a 1/1 Onyx parallel to chase.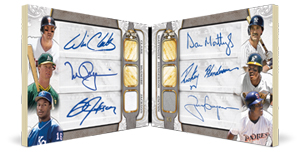 Each 18-box case will include a 1/1 auto Relic and a triple auto Relic card as well.
The base set will include 100 cards each with seven parallels — Amethyst (TBD), Emerald (/250), Amber (/125), Gold (/99), Onyx (/50), Sapphire (/25) and 1/1 Ruby.
Standard Relics will be found for more than 50 players and a few versions per individual. They will start at 36 copies and then have Sepia (/27), Emerald (/18), Gold (/9) Sapphire (/3) and 1/1 Ruby versions. The same will go for the Legends as well as Relic Combo cards. Double combos will turn these into books limited to 18 with Gold (/9), Sapphire (/3) and 1/1 Ruby versions.
The autographed Triple Relics will showcase rookies and future stars with each numbered to 99 copies. These will have Sepia (/75), Emerald (/50), Black (/35) and 1/1 Ruby, Wood and printing plate parallels.  Autographed Relics will have more than 250 cards in total with as many as five varying diecut  windows per player. These will be numbered to 18 for starters with the familiar Gold (/9), Sapphire (/3) and 1/1 Ruby, Wood and plate parallels. also among this group will be auto Relic combos — three players, three Relics and three autos per card. These will be limited to 36 for starters and then have Sepia (/27), Emerald (/18), Gold (/9) Sapphire (/3) and 1/1 Ruby, Wood and plate versions.
Want six players, six Relics and six autos per booklet? That's where the auto Relic double combo cards come in. They will be limited to just three copies with 1/1 Ruby parallels.
For the more deluxe cards, there will be Jumbo Plus Auto Relics — book cards with an auto and three pieces. One of those will be a jumbo swatch. They will be limited to three with 1/1 Ruby parallel.  Letter Plus Auto Relics will have the same but with a letter patch made in the same volume.  Also worth chasing will be Cut Above autos — a 1/1 cut auto with three Relics, while dual versions will turn the offerings into booklets with the same on each side.
Also among the high-end offerings will be All-Star Jumbo Sleeve Patches — 1/1 booklets — with the standard All-Star patches limited to nine with a 1/1 Ruby version to chase.  Another version will be 1/1 Jumbo Sleeve Team Patches and Logoman 1/1s. Another high-end piece from the All-Star lineup will be 1/1 laundry tag cards, while Letter Plus Relics (/3), Bat Knobs (1/1) and Letter-Number-Logo triple-patch booklets also will be found.
Jumbo Plus relics will also be found — same as the previous cards just with no autograph — while 1/1 bat barrel nameplates also will be included.
For the Unity Relics, there will be standard versions limited to 36 along with five parallels — the same lineup and volume as standard Relics. Auto Unity Relics will have the same lineup as auto Relics.
A preliminary checklist was not released.
Chris Olds is the editor of Beckett Baseball and Beckett Sports Card Monthly magazines. Have a comment, question or idea? Send an email to him at colds@beckett.com. Follow him on Twitter by clicking here.