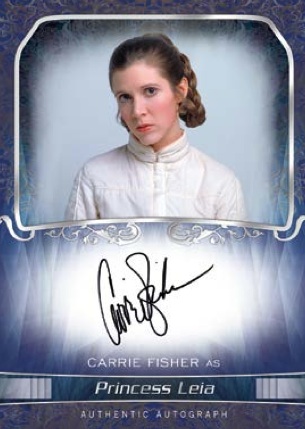 By Chris Olds | Beckett Sports Card Monthly Editor
This one could be a high-end force.
Topps offered the first looks and full details on an upcoming high-end Star Wars brand on Monday, and it's 2014 Star Wars Masterwork which is set to arrive in mid-December packing a hit in every pack of a four-pack $200 box.
It's Museum Collection meets sci-fi with an autograph, Relic, sketch card or manufactured Relic in every five-card pack.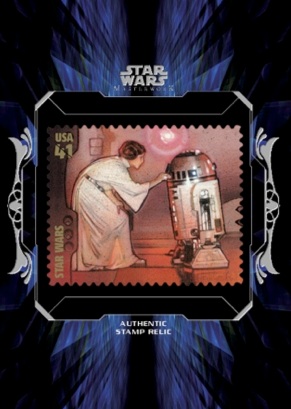 Each four-pack box guarantees one on-card autograph unless the card is replaced with a booklet auto. Every eight-box case will include one silver-framed autograph, seven other on-card autos, eight sketch cards and three Relics. The remaining cards will be from a mix of Medallion Relics, Stamp Relics or printing plates.
The basic set will consist of 75 cards and there will be three 10-card insert sets to be found — Defining Moments, Companions and Scum & Villainy cards. The base cards will have four parallels — Blue (/299), Silver (/99), Green (/50) and 1/1 Gold cards. The insets will have a Golden Metal 1/1 insert, a Green (/10), Rainbow (/299), Canvas (/99), Wood (/50) and Acetate (/25) parallels to chase.
The sketch cards will up the genre with standard sketches found on 72-point stock, variants with red-foil logos, Wood sketch cards limited to just five copies, sketch card booklets and hot boxes with sketch puzzles where all four mini boxes pack a sketch to complete the larger image.
On the autograph side there will be standard autos along with Foil parallels (/25), Canvas (/10) and 1/1 Wood cards to be found, while the silver-framed autos found one per case will be limited to just 29. There will be five different auto books with each limited to just five copies.
For the Relics, Topps promises "groundbreaking Relics" that "take collectability to new heights" with four types of cards to find. They are Signature Pen Auto Relics with pieces of the pens used for signings, Weapons Lineage Medallions (metal manufactured Relics), Momentous Movie Relics with costumes and props placed into cards and Postage Stamp Relics to be found, too.
A preliminary checklist was not released.
Chris Olds is the editor of Beckett Baseball and Beckett Sports Card Monthly magazines. Have a comment, question or idea? Send an email to him at colds@beckett.com. Follow him on Twitter by clicking here.