First look: 2014 Topps Prime Football cards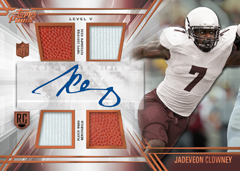 By Susan Lulgjuraj | Beckett Football Editor
When it comes finding unique memorabilia from football players, 2014 Topps Prime Football should be a place to look. Relic cards will feature socks, footballs, gloves, wristbands and more.
Each box of 2014 Topps Prime Football will contain two autographs and two relic cards. Each box will have 10 packs with five cards in every pack.
To break it down further, each box will have an autographed relic that could be one of five prime levels:
Prime I – 6-piece book card: Glove/Wristband/Football/Patch/Jersey/Jersey; sequentially numbered to 10
Prime II – 5-piece book card: Glove/Wristband/Football/Jersey/Team Sock Relics; sequentially numbered to 15
Prime III – 3-piece book card: Jumbo Football/Sock/Jersey Patch Relics; sequentially numbered to 15
Prime IV – 1-piece book card: Supreme-sized patch; sequentially numbered to 5.
Prime V – 4 pieces: Jersey, Patch, Jersey, Jersey.
The autograph relics come with five parallels ranging from 50 copies to just one.
The autographed cards will feature signatures on full-bleed, action photography with a rookie or a veteran. The base will be numbered to various quantities, and five parallels are included of Copper, Gold, Copper Rainbow, Silver Rainbow and Gold Rainbow. The veteran autos will be tougher pulls with the veteran Copper parallels numbered to just 25 while the rookie Copper parallels are numbered to 99.
Relic cards will come in various formats with Dual and Quad relics available for rookies with five parallel levels. In addition, collectors can find Dual Combo relics and Quad Combo relics that will have a veteran and a rookie highlighted on the card.
Topps is including Prime Patches, a hobby-only hit.
The base set will consist of 150 cards: 100 veterans, 50 rookies. However, there will be 50 image variations of veterans and rookies each. The base set parallels include Copper (numbered to 350), Gold (numbered to 250), Copper Rainbow (numbered to 99), Silver Rainbow (numbered to 50) and Gold Rainbow Parallel (1-of-1).
Inserts include Primetimers (1 in 2 packs), Primed Rookies (1 in 5) and Prime Performance (1 in 10).
Prime Football is scheduled to come out the week of Sept. 17.
Susan Lulgjuraj is an editor at Beckett Media. You can email her here with questions, comments or ideas. Follow her on Twitter here. Follow Beckett Media on Facebook and Twitter.