First Look: 2014 Topps Museum Collection baseball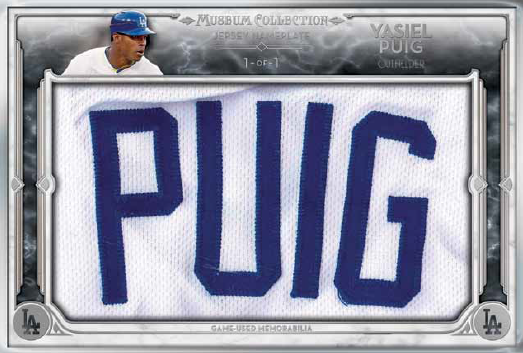 By Chris Olds | Beckett Baseball Editor
The Museum Collection is back once again — and there just might be a masterpiece or two for you to chase among the new inclusions.
Topps unveiled 2014 Topps Museum Collection baseball cards on Thursday, and the high-end brand will include new nameplate Relics and more among the offerings when it arrives on March 26.
Packing four packs per box with a hit in each pack, Museum Collection will include three base cards, one parallel and an autograph or Relic in every unit. Each box will include one autograph, one autographed Relic one jumbo Relic and one quad Relic inside. Meanwhile each 12-box case will guarantee one autographed jumbo Relic and one Museum Collection autograph as well, according to the company.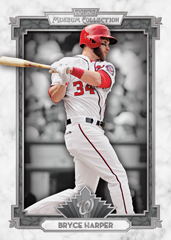 With no card in the product numbered to more than 399 copies, this high-end brand has its share of parallels for a relatively small checklist. The base set will consist of 100 cards featuring past and present players with each having a Red 1/1, Blue (/99), Green (/199) and Copper parallels.
The biggest inclusion will be 1/1 Framed Jersey Nameplate cards with full nameplates for players such as Yasiel Puig. These box-toppers will be joined by Canvas Collection toppers limited to just 25 and showing reproductions of Canvas Collection art. There also will be a 10-card autographed parallel of those CC cards to chase as well.
As with recent releases, there also will be Canvas Collection Originals — each one-of-a-kind pieces of art with 50 pieces found as one-per-box inserts.
With all standard autographs signed on-card, according to Topps, there will be several inked sets for collectors to chase. The Archival Autographs set includes more than 70 players and no more than 399 cards signed. There will be Gold and Sepia parallels limited to no more than five copies per card.  Meanwhile, 50 players will be paired up in the 25-card Dual Archival Autographs set with those limited to just 15 copies. Triples will be limited to five cards each numbered to five copies.
A 20-card selection of Cut Signatures will also be in play here with each of those cards being 1/1s.
At the case-hit level, the Museum Collection autos will be found in three colors — Gold (/15), Silver (/10) and Black (/5) frames for more than 40 players. These will be signed in silver ink. Momentous Material Jumbo Relic autos will have more than 75 players features with each limited to just 10 copies. These cards will have Gold (/5) and 1/1 Emerald parallels.
The Autographed memorabilia cards is where Museum gets a bit more complicated. There will be one signed Relic per box with a mix of parallels for each of four sets — Signature Swatches duals will have two Relics along with an auto with those cards limited to 299. A Gold parallel will be limited to 25, while the patch version will be limited to five. The Triple Relics will have three pieces and also be limited to 299. with the same parallels to the same quantities.
Primary Pieces Quad Relic autos will have four patch pieces as well as an auto and be limited to just 10 copies for card for all 40 players on that list.
For the jumbo Relics, there will be three non-booklet options for collectors to chase with Momentous Materials being the most plentiful. There will be more than 100 players featured on cards limited to just 50 copies. There will be Gold (/35), Copper (/10) and 1/1 Emerald parallels for these. Jumbo Lumber Relics will be made for more than 50 players with each limited to just 25. The parallels there will be the same shades limited to 10, five and one copy. Lastly, the Nameplate Relics will have the portion of a game-used bat that has the player's name burned into it showcased on the card. These 1/1s will be made for 100 players. There also will be a number of jumbo patch cards with those limited to just five copies. Meanwhile, there will be 250 players showcased on Laundry Tag Relics — all 1/1s as well as 100 more players on 1/1 Museum Memorabilia cards that have the MLB logo from the back of the player's jersey showcased.
For jumbo Relic booklets, there will be Momentous Materials duals for 30 players that will be limited to just five copies. The jumbo lumbers also will be limited to five copies apiece.
For more standard Relics, there will be quads one per box and these will feature four swatches per card for more than 40 players. The standard cards will be limited to 99 copies, while there also will be Copper (/75) and Gold (/25) parallels. For the Legends set, there will be 20 luminaries from the past with those cards limited to just 25 and a single parallel, a Gold limited to five.
Four four-player Primary Pieces quads, there will be 99 copies of each card made with Copper (/75) and Gold (/25) parallels, while quad patches for single players will be limited to just five. The  four-player patches will be just as rare.
A preliminary checklist for this product was not released.
Chris Olds is the editor of Beckett Baseball and Beckett Sports Card Monthly magazines. Have a comment, question or idea? Send an email to him at colds@beckett.com. Follow him on Twitter by clicking here.