First look: 2014 Topps Heritage baseball cards (with preliminary checklist)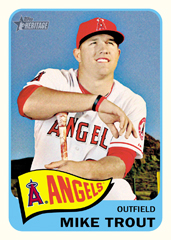 By Chris Olds | Beckett Baseball Editor
It's time to turn the clock back to 1965.
Topps released the first images and basic product information for the 14th installment of Topps Heritage on Tuesday — the turn-back-the-clock brand that will be bringing back pennants to baseball card packs once again.
Set to arrive on March 5, Heritage will include nine cards per pack in each 24-pack hobby box with each box including one autograph or Relic in the style of the throwback design.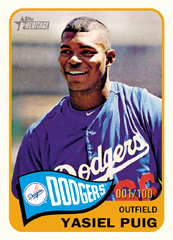 The base set will consist of 425 standard cards capped by 75 short-prints. There will be four types of variations to chase with errors that are nods to the 1965 set as one option throwback uniform variations another and then action image and logo variations as well.  The last two will be hobby-only creations.
Parallels will include Black backs much like this year's Venezuelan parallels, a mini version limited to 100 copies and then Chromes in the same array as this year — Chrome Refactor, Black Refractor (/65), Gold Refractor (/5).
Box-toppers will include 1965 ad panels as has been done for the last several years along with Topps Originals  and 1965 over-sized cards. For the last version, there will be a standard card, an insert limited to 50, a Relic limited to 25 and an autographed version limited to 10.
Insert cards will include New Age Performers, Then and Now, and Baseball as well as News Flashback. While those are all standard, two new options will be found in packs — First Draft inserts showcasing the first players picked in the first MLB Draft along with 1965 Topps Embossed, a nod to the embossed foil set from the past that's often found quite aged-looking these days.
There are more than 10 Relic and throwback inclusions in this one with the Clubhouse Collection cards leading the way. Those cards will be the starting point with Gold parallels limited to 99 and then duals  (/65), triples (/25) and quads (/10) to be found along with 1/1 book cards that will include bat knobs, nameplates or patches. Also back will be the coin Relics — this time pushing forward to 1965 with the Hobby-only cards being limited to 15 (nickels), 10 (dimes), five (quarters) or 1 (half-dollar). Also back are postage stamp Relics, a redemption for a complete 1965 set, 1965 iron transfer buybacks and more.  Three non-sport sets from 1965 will be included as well with buybacks from Gilligan's Island, Flash Gordon and King Kong also to be found.
The autograph lineup will include Real One autographs as has been the norm for years now with Red-ink cards limited to 65 copies. Meanwhile, dual autos will be limited to 25 and triples to five. Auto Relics include Clubhouse Collection (/25), CC duals (/10), Flashbacks (/25) and 1/1 cut autographs. Among the signers on the preliminary checklist are Willie Mays, Don Mattingly, Yasiel Puig and Ernie Banks to name a few.
Chris Olds is the editor of Beckett Baseball and Beckett Sports Card Monthly magazines. Have a comment, question or idea? Send an email to him at colds@beckett.com. Follow him on Twitter by clicking here.
PRELIMINARY CHECKLIST AS PROVIDED BY TOPPS (SUBJECT TO CHANGE)
AUTOGRAPHS
Ernie Banks Chicago Cubs®
Willie Mays San Francisco Giants®
Bo Jackson Kansas City Royals®
Nomar Garciaparra Boston Red Sox®
Don Mattingly New York Yankees®
Tom Glavine Atlanta Braves™
Gerrit Cole Pittsburgh Pirates®
Will Clark San Francisco Giants®
Maury Wills Los Angeles Dodgers®
Yasiel Puig Los Angeles Dodgers®
Matt Adams St. Louis Cardinals®
Drew Smyly Detroit Tigers®
Wil Myers Tampa Bay Rays™
Kevin Gausman Baltimore Orioles®
Jake Odorizzi Tampa Bay Rays™
Jedd Gyorko San Diego Padres™
Mike Zunino Seattle Mariners™
Eric Davis Cincinnati Reds®
Paul O'Neill New York Yankees®
Don Baylor Angels®
Dave Concepcion Cincinnati Reds®
Michael Wacha St. Louis Cardinals®
Evan Gattis Atlanta Braves™
BASE CARDS
Yu Darvish Texas Rangers®
Mike Trout Angels®
Bryce Harper Washington Nationals®
Manny Machado Baltimore Orioles®
Yasiel Puig Los Angeles Dodgers®
Miguel Cabrera Detroit Tigers®
Chris Davis Baltimore Orioles®
Max Scherzer Detroit Tigers®
Matt Harvey New York Mets®
Joey Votto Cincinnati Reds®
Paul Goldschmidt Arizona Diamondbacks®
Prince Fielder Detroit Tigers®
Dustin Pedroia Boston Red Sox®
Robinson Cano New York Yankees®
Troy Tulowitzki Colorado Rockies™
Wil Myers Tampa Bay Rays™
Gerrit Cole Pittsburgh Pirates®
Christian Yelich Miami Marlins™
Jake Marisnick Miami Marlins™
Carlos Gonzalez Colorado Rockies™
Carlos Gomez Milwaukee Brewers™
Jacoby Ellsbury Boston Red Sox®
Adam Jones Baltimore Orioles®
Andrew McCutchen Pittsburgh Pirates®
Domonic Brown Pittsburgh Pirates®
Yoenis Cespedes Oakland Athletics™
Justin Upton Atlanta Braves™
Nolan Arenado Colorado Rockies™
Jurickson Profar Texas Rangers®
Shelby Miller St. Louis Cardinals®
Hyun-Jin Ryu Los Angeles Dodgers®
Julio Teheran Atlanta Braves™
Giancarlo Stanton Miami Marlins™
Derek Jeter New York Yankees®
David Wright New York Mets®
Clayton Kershaw Los Angeles Dodgers®
Patrick Corbin Arizona Diamondbacks®
Adam Wainwright St. Louis Cardinals®
Stephen Strasburg Washington Nationals®
Felix Hernandez Seattle Mariners™
Chris Sale Chicago White Sox®
CC Sabathia New York Yankees®
James Shields Kansas City Royals®
Jose Fernandez Miami Marlins™
Craig Kimbrel Atlanta Braves™
Justin Verlander Detroit Tigers®
David Ortiz Boston Red Sox®
Matt Kemp Los Angeles Dodgers®
Hanley Ramirez Los Angeles Dodgers®
Hiroki Kuroda New York Yankees®