First look: 2014 Topps Football cards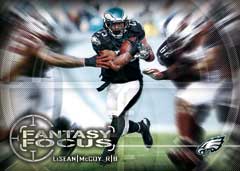 By Susan Lulgjuraj | Beckett Football Editor
The newest Topps flagship will focus on your fantasy team.
One of the newest inserts in 2014 Topps Football includes Fantasy Focus, featuring elite fantasy players such and LeSean McCoy. The cards will also give fantasy football strategies by NFL.com writers. Another new insert includes Greatness Unleashed.
2014 Topps Football will come with 10 cards in each pack with 36 packs in every box. It's scheduled to release the week of August 20.
The base set will consist of 440 cards with veterans, rookies, team cards, award winner and more. Topps will include fantasy football statistics on the backs of football cards for the first time.
Each base card will have six parallels: Gold, BCA (pink), STS (salute to service), Black (hobby only), Platinum Foil (hobby only) and printing plates (hobby only).
Back are the 1,000-Yard Club and 4,000-Yard Club cards. Topps will also include 1963 Topps Mini designs.
Topps will also honor NFL great Deacon Jones who died last year with a card in 2014 Topps.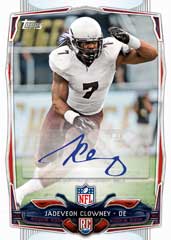 There will be one hit of an autograph or relic card per hobby box. Hobby jumbos will have two autographs and one rookie patch per box.
The base autograph checklist will include up to 50 subjects.
Other autograph subsets include: NFL.com Fantasy Stock Watch; Base Veteran Autographs; Base Veteran Variation Autographs; Topps Autograph Relics; Rookie Autograph Jumbo Patch, Base Rookie Autographs, Base Rookie Variation Autographs.
When it comes to the NFL Rookie Premiere, those selected players will have autographs on 1963 Topps Minis, 1965 Topps and 1985 Topps designs. There will also be multiple subject cards.
Commemorative patches will be featured once again. This year's patches will highlight a number of different categories, including the 2013 rookies of the week, top defenders, wide receivers, quarterbacks and running backs, and 2013 All-Pro Class.
Topps will include a Power Players program for the 2014 release. To play, collectors redeem Power Players codes online. Build a player collection and follow their weekly performances. Prizes can be won instantly or by having your Power Player of the Week entered into a drawing.
Prizes include a trip to the 2015 NFLPA Rookie Premiere, tickets to 2015 NFL games, exclusive parallels, autographed cards and memorabilia, and more.
Susan Lulgjuraj is an editor at Beckett Media. You can email her here with questions, comments or ideas. Follow her on Twitter here. Follow Beckett Media on Facebook and Twitter.