First Look: 2014 Topps Five Star Football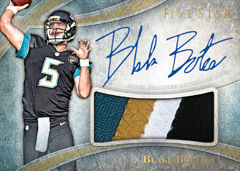 By David Lee | Beckett Football Editor
Topps Five Star will return, fittingly, for a fifth release in 2015. Topps Five Star football debuted in 2010.
Each box will include one autographed memorabilia, multi-player autograph, Silver Signatures Autograph or a Golden Graphs Autograph. Boxes also feature four Five Star Autographed cards plus one other Five Star Autographed card, Cut Signature, Legends Relic or a 1 of 1 Relic.
The Five Star Autographs feature up to 100 veteran stars, legends and rookies. There is a Rainbow parallel numbered to 25 and a 1 of 1 parallel. Silver Signatures and Golden Ink are signed in silver and gold in, respectively and have several parallel levels: Purple, Blue, Green, Gold, Orange and Red numbered to 25 down to a 1 of 1 level. More sneak peek card images after the jump…
Five Star Autographed Jumbo Patches featured up to 20 star players with an on-card autographed and oversized patch. The Five Star 4-Piece Signatures Book has four swatches and an on-card autograph. NFL Shield Autographs has up to 50 players with an NFL shield patch. Booklet cards feature one, two or four different player combinations, and have patches and autographs. There are also several different Relic sets that feature nameplate letters, NFL shield patches, laundry tags, Nike swoosh logo patches and dual legends cards.
Topps Five Star is scheduled to release in March after two other higher-end Topps products—Topps Supreme and Topps Museum Collection.
Twitter: @FreeEnergyDude