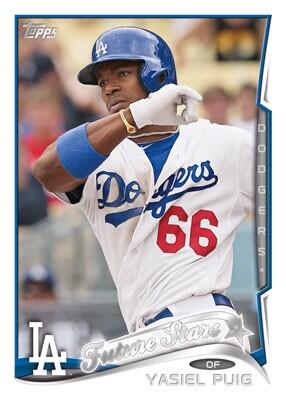 By Chris Olds | Beckett Baseball Editor
The countdown to next year starts now.
Topps released the product breakdowns and additional design samples for 2014 Topps baseball cards on Monday, and the theme for the hobby's longest-running and best-selling brand is one that focuses on "an unprecedented explosion of young talent, a changing of the guard, as rookies and young stars are playing a bigger role than ever." In other words, it says, "the future is now."
Set to arrive Jan. 29, each 36-pack Hobby box will contain one autograph or Relic along with 10 cards per pack, while HTA Jumbo boxes will contain 10 packs and pack one autograph and two Relics per box.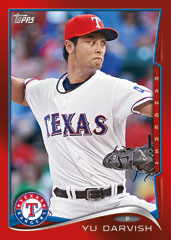 As with past seasons, the base set for Series 1 will consist of 330 cards — a mix of veterans, rookies, highlights and more. Each card will have eight parallels with a new Hobby-only inclusion being Clear parallels, which will be printed on acetate and serial-numbered to just 10 copies.  The rundown of the rest of the Topps rainbow will include Gold (/2,014), Camo (/99), Black (/63), Pink (/50), Red Hot foil (one in six packs) and 1/1 printing plates and Platinum versions. There will also be silks for 100 players in the set.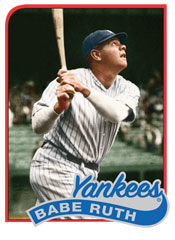 Among the inserts will be 1989 Topps Minis, which will be diecut to remove the white borders and be found only two per box. Meanwhile The Future Is Now inserts and the Upper Class (best rookies) will be found nine per box. Also new will be 50 Years of the Draft inserts — noting key players in MLB Draft history — along with All-Rookie Cup All-Time Team players. Also among the lineup is Before They Were Great, which will pair 30 players' past and present images. These will be Hobby-only cards with a Gold parallel limited to 99 copies.
Also to be found will be Framed Rookie Reprint cards — a Hobby-only inclusion — with Museum Collection-style cards with Black, Silver and Gold frames. Also included will be Rookie Buybacks — the top 50 players in Topps history.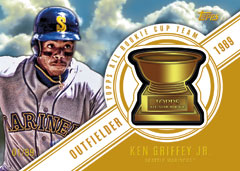 The Commemorative Relics this year will focus on past award-winners in the Topps pantheon along with other stars from the past. These manufactured Relics will be found one per case in standard Hobby boxes and one per HTA Jumbo box. There will be 10 All Rookie Cup players (/99) and each will also have a "vintage trophy" version to chase, which will be limited to 25. There also will be Rookie Cup All-Stars Relics with players who were of note but not along the 10 best. These, too, will have a standard and vintage version. There also will be Class Rings cards for 25 of the greatest players in MLB history — with silver being the standard version  and then Golds (/25) and Gold Gems (/25) that have gems embedded into the metal ring embed. There also will be 10 Gems auto cards to chase, with each limited to 10 copies.
Among the autographs will be Trajectory Autos, The Future Is Now (/25), Upper Class (/50), Before They Were Great (/10 and signed on-card), 1989 Topps Minis (/10), Postseason Performance autos (/50) and World Series Champions from this fall (/50). Relics will follow these same sets with most of them limited to 99 or fewer copies. The All-Star Game's presence will also be found here with In the Name Relics, 1/1 cards with letters from the nameplates of used All-Star workout jerseys.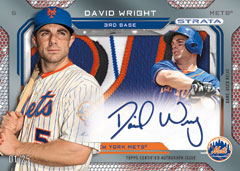 Among the high-end chase cards in this one will be Hobby-only Strata inserts, which will be Strata Signature Relics that combine acetate with autographs and game-used pieces. These will be serial-numbered (quantity not announced) with a series of Strata cut 1/1s also included.  In addition, each of the other inserts will have auto-mem versions as there will be Future is Now auto Relics, Upper Class, All-Rookie Cup, Before They Were Great, World Series Champs and Postseason Performance cards to be chased. None of these will be more than 25 copies per card, except for the final two, which will be limited to 50.
Two promotional programs are planned for this release, according to the company, with Pennant Chase cards that can be redeemed for a prize at season's end along with Spring Fever hobby shop redemption cards found one per Hobby or HTA Jumbo box.
Chris Olds is the editor of Beckett Baseball and Beckett Sports Card Monthly magazines. Have a comment, question or idea? Send an email to him at colds@beckett.com. Follow him on Twitter by clicking here.
—
Loading ...
—
RAW, PRELIMINARY CHECKLIST AS RELEASED BY TOPPS (SUBJECT TO CHANGE)