First look: 2014 Topps Allen & Ginter baseball cards (with preliminary checklist)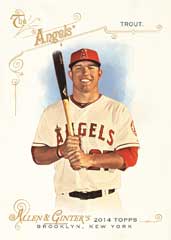 By Chris Olds | Beckett Baseball Editor
Allen & Ginter is back for its ninth edition — and this year it's adding metal and pop-up cards into the mix.
Yep, cards printed on metal and pop-up booklet cards like the children's books.
Topps unveiled the first looks at its 2014 edition of the eclectic throwback-style set on Tuesday and it's one that also includes skeleton cards and one-per-case mini parallel packs are new features, too. The mini packs will include red mini parallels of the standard set limited to just 50 copies, while some will have redemptions for a framed Relic set.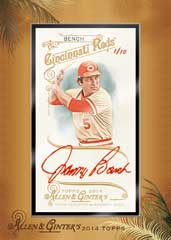 Set to arrive on July 9, each 24-pack hobby box will include a mix of three autographs, Relics, rip cards and more.
While the Rip Cards are still one per case, they have some new competition with metal parallels for both the standard and mini cards as well as the Pop Star Relics which will be limited to 25 copies and also include a Relic. The Amateur Osteologist cards will feature an "actual skeleton of an animal" and be numbered to just one copy.
Most everything else included in 2014 Allen & Ginter is the same as in past years, starting with the base set. It will consist of 300 cards capped by 50 short-prints found in every other pack. Meanwhile, parallels also return with the standard card, the A&G back, black-bordered, n0-number, 1/1 Wood and 1/1 printing plates. New on the mini cards will be the metals as well as  flag back mini that will be limited to 25. (A new name for what had been Bazooka cards in earlier years.)  Some cards (only 150) will have cloth versions limited to 10.
Autographs will have the same lineup as in past years with a mix of world's champions in other sports as well as active and retired MLB players. The red-ink cards will be limited to 10 copies. Also back are book cards limited to 10, which will only be found in hobby packs. Those cards will pair players as well as Relics.
Non-baseball autographs were not announced but several notable players were listed on a preliminary autograph/Relic checklist. Among them are Jose Canseco, Hank Aaron, Jeff Bagwell, Craig Biggio, Roberto Clemente, Yu Darvish, Prince Fielder, Nomar Garciaparra, Ken Griffey Jr., Bryce Harper, Bo Jackson, Sandy Koufax, Greg Maddux, Mariano Rivera, Willie Mays, Andrew McCutchen, Albert Pujols, Yasiel Puig, Jackie Robinson, Deion Sanders, Mike Trout, Michael Wacha and many more.
Box-toppers will have several different types of cards for 2014 with standard cards, Relics limited to 25, autos limietd to 15, auto Relics to five and cut sig limited to one copy. Among the sets are Landmarks and Monuments, player reprints as well as 1/1 Cabinet Relics and 1/1 Cabinet Book Relics that have pieces from other — more unique — items.
Last year's dual rip cards return along with standard rips. Inside these cards will be a mix of original 1/1 paintings, red autos, 50 more minis as well as 1/1 wood minis. Inside some rips will be mini rip cards that can be ripped to find a mini mini  — or a redemption for a set of framed mini Relics.
For standard Relics, the three-Relic array introduced in 2013 will return. Boxes will have no duplicated designs. Back are DNA and oddity Relics as well, while there also will be 100 framed buybacks to chase, too.
For standard-size inserts, there are Pastime's Pastimes cards — 100 cards of players that note what they do away from the field. Joining those are World's Capitals, Air Supremacy (planes), Fields of Yore (past stadiums), Natural Wonders and Festivals & Fairs cards.
Mini insets will include explorers in the Into the Unknown set, the World's Deadliest Predators, Where Nature Ends (artists), Larger Than Life (folk heroes) and a set for cat-lovers dubbed Little Lions.
Chris Olds is the editor of Beckett Baseball and Beckett Sports Card Monthly magazines. Have a comment, question or idea? Send an email to him at colds@beckett.com. Follow him on Twitter by clicking here.
—
 Click here for a PDF of the preliminary checklist, which is subject to change.