2014 Panini Prizm Perrennial Draft Picks Baseball Details
Baseball's latest crop of draft picks will be showcased on an even larger rainbow as Panini America released the basic information on its 2014 Panini Prizm Perennial Draft Picks baseball cards.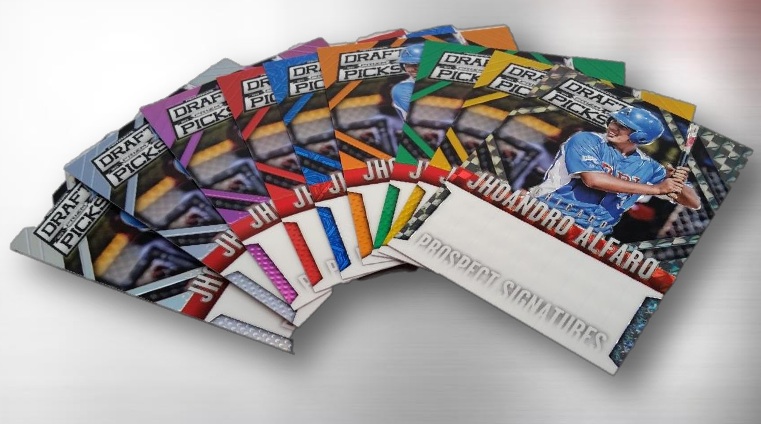 Packing three autographs, three serial-numbered Prizms and two more Prizms in every 12-pack hobby box, the second year of the product will include some additional new features as well when it arrives on Nov. 12.
New this year will be Powder Blue (/199), Purple (/149), Blue Mojo (/75) and Orange (/60) parallels with new autograph finds as well — Midnight Ink Mojo Diecuts (/50) and Finite Diecut Prizms (/25).
The size of the set size was not announced, though there will be five cards per pack with a selection of draft picks and signees including Rusney Castillo, who signed with the Boston Red Sox from Cuba. Others touted by Panini on its preview materials as in the product include Carlos Rodon, Trea Turner, Tyler Kolek, Dalton Pompey, Jhohandro Alfaro and many more.
The rainbow in this one will include eight colors — Powder Blue (/199), Red (/100), Blue Mojo (/75), Orange (/60), Purple (/49), Green (/35), Gold (/10) and 1/1 Black Finite Prizms.
The Prospect Signatures cards will include a few parallels — Purple (/49), Blue Mojo (/75) and Press Proofs (/199). Also among the autograph inclusions will be Honored Selections cards that showcase past notable draft picks including Ken Griffey Jr., Chipper Jones and Kris Bryant to name a few. Also to be found are Next Era Dual autos (/25), which will pair players of note together and also have Gold (/10) and 1/1 Black Finite parallels.
Also included in this one will be Panini High School All-America Team Prizm cards with basic Prizms limited to 100 with Gold (/10) and 1/1 Black parallels to find. Another insert will be Minors Gold cards that will have Gold Prizm (/10) and 1/1 Black Prizm parallels.