First look: 2014 Panini National Treasures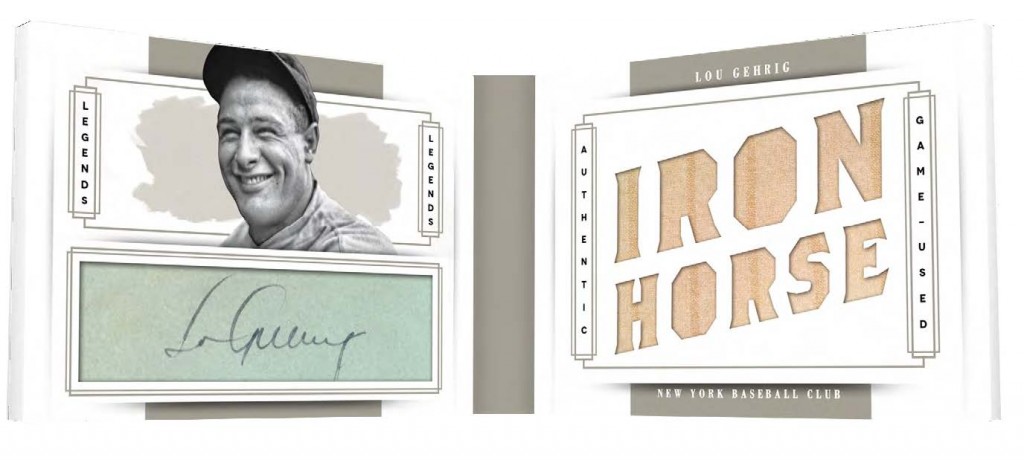 By Chris Olds | Beckett Baseball Editor
National Treasures is back in baseball.
Panini America revealed the first looks and details for 2014 Panini National Treasures on Wednesday, a second edition of the high-end brand that will pack eight autographs and/or memorabilia cards in every box when it arrives on Dec. 17.
Every box will include at least four autographs and one booklet card. There will be eight types of booklet cards for collectors to find, while Panini also touts that it will have more on-card autographs than the landmark 2012 release.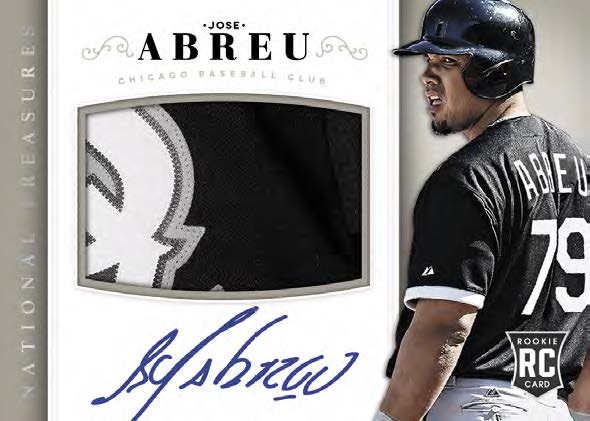 Rookie Signature Materials cards will be found for several top rookies from this past season, including American League Rookie of the Year Jose Abreu, National League ROY Jacob deGrom, George Springer, Mookie Betts, Arismendy Alcantara, Oscar Taveras, Gregory Polanco, Xander Bogaerts, Nick Castellanos, Billy Hamilton, Jon Singleton and Matt Shoemaker. There will be 1/1 printing plate versions of these cards as well as laundry tag and brand logo patches. New York Yankees rookie Masahiro Tanaka did not sign but will have Rookie Materials cards limited to 99 along with a Silver (/49), Gold (/25), Black (/10), Green (/5) and 1/1 laundry tag versions to chase. He'll have 1/1 brand logo and printing plate cards, too.
Among the retro highlights in this one will be Legend Cuts Jumbo Materials — a lineup of the biggest names in the game with a cut signature showcased alongside a jumbo swatch with all cards numbered. Among the players in that lineup? Ty Cobb, Honus Wagner, Nap Lajoie, Lou Gehrig, Joe DiMaggio, Jackie Robinson, Ted Williams and Tris Speaker to name a few. Several legends will have their first National Treasures memorabilia cards in this one — a group that includes Frank Chance, Roger Bresnahan, Rick Ferrell, Gabby Hartnett, Tony Lazzeri, Bob Meusel, Earl Averill, George Sisler, Sam Crawford, Herb Pennock and Lefty Gomez.
Bat Barrel cards will be found somewhat prominently in this one as some of baseball's biggest names are touted for that set — Derek Jeter, Rogers Hornsby, Hack Wilson, Jimmie Foxx, Roger Maris, Mike Trout, Al Simmons and Roberto Clemente are among the 75 to be found. There will be the same number of bat knob cards for collectors to chase.
Modern-day players will take their hacks on the Jumbo Materials front, too, with nickname and stat versions. Among the players there will be Mike Trout, Jose Abreu, Clayton Kershaw, Greg Maddux, Rickey Henderson, Cal Ripken Jr., Ryne Sandberg, Carl Yastrzemski, Frank Robinson, Oscar Taveras and George Brett among others.
The gems from Flawless also will be found here — one per case — with cards limited to 20 along with Emerald cards limited to five and 1/1 Diamond cards in the mix. These cards will feature Albert Pujols, Derek Jeter, Cy Young, Honus Wagner, Ichiro Suzuki, Jackie Robinson, Joe DiMaggio, Walter Johnson, Masahiro Tanaka, Yasiel Puig, Rogers Hornsby, Roberto Clemente, Ted Williams and plenty more in the fold from baseball's past as well as its present.
Star Silhouette cards will return with cards limited to 99 copies or less. These will have prime variations limited 25 or less along with 1/1 laundry tag and brand logo cards for current-day active and retired players such as Mark McGwire, Ken Griffey Jr., Mariano Rivera, Jose Abreu, Mike Trout, Pete Rose, Nolan Ryan, Kris Bryant and David Ortiz among others.
Another modern-day autograph to chase here will be Baseball Diecut cards with those limited to no more than 99 copies. Among the signers for this one will be Pujols, Ripken, Kershaw, Maddux, Rose, Trout and Bryant.
New for this edition will be Made in the USA cards with a manufactured USA flag patch among the cards as well as international editions for players from outside the United States from Puerto Rico, Venezuela and Cuba. A sampling of those slated to sign here are Buster Posey, Kershaw, Ripken, Trout, Ryan, Rose, Henderson, Bryant, Taveras, Pujols, Abreu and Ortiz.
Also back for this one will be Notable Nicknames cards where players pen their monikers beside their names as well as Hall of Fame logo signatures.
A preliminary checklist was not released.
Chris Olds is the editor of Beckett Baseball and Beckett Sports Card Monthly magazines. Have a comment, question or idea? Send an email to him at colds@beckett.com. Follow him on Twitter by clicking here.