First look: 2014 Leaf Bettie Page Collection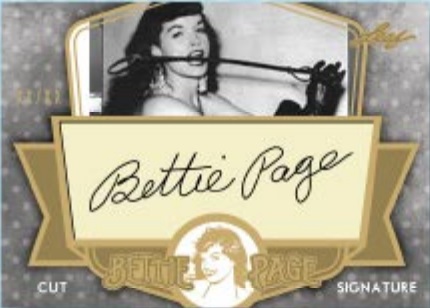 By Susan Lulgjuraj | Beckett Sports Card Monthly Editor
One of the most popular pin-up models of the 1950s has been featured on a number of trading card products. The latest will be 2014 Leaf Bettie Page Collection.
Each box will include 24 packs with six cards in each pack, and one hit per box. Each base set will contain 72 cards with two inserts: Queen of the Pinups (a 16-card set) and Calendar Girl (12-card set on a calendar design).
The hits will include cut autographs (one or two per case) to Hair cards, Wardrobe cards, and 1-of-1 Sketch cards.
Bettie Page became famous in the 1950s as the Queen of Pinups. Cards of her have been made by several companies including Benchwarmers and Versicolor Productions.
Just 150 cases will be made. The 2014 Leaf Bettie Page Collection is scheduled to come out April 30
Susan Lulgjuraj is an editor at Beckett Media. You can email her here with questions, comments or ideas. Follow her on Twitter here. Follow Beckett Media on Facebook and Twitter.