First look: 2014 Garbage Pail Kids Series 1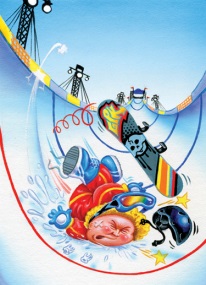 By Susan Lulgjuraj | Beckett Sports Card Monthly Editor
Topps is giving children a new way to get ready for the Olympics – by poking fun at them.
When 2014 Garbage Pail Kids Series 1 releases next year, Topps will be celebrating with its own form of the international games with the Olym-Picks.
Topps will highlight the new games on traditional stickers and motion cards. The set also includes Gold, Silver and Bronze foil medal cards featuring original GPK sporting events such as Synchronized Farting.
The set is due out in late January and will come with 10 cards with an insert or parallel in every packs. Regular hobby boxes will come with 24 packs per box.
There are 172 cards to collect in all: 110 new characters with A and B variations; 22 GPK Olym-pick athletes (11 A and B names), 10 motion cards and 30 etched foil medal cards.
There will be Black and Gold parallels. There are also eight bonus cards parodying pop culture that are hobby exclusive, and rare C variations of the Olym-Pick athletes (1 in 100 packs).
Collectors can also find texture relics, sketch cards, autographs and printing plates.
Topps is creating GPK Hobby Collector packs. Each of these packs will come with one Black parallel or Medal insert, one Metallic Red parallel and one Full Bleed Canvas parallel. Each Hobby Collector Box will also come with a bonus sticker, a Blank Back parallel, a Cloth Sticker or Sepia parallel, and a hit.
The Hobby Collector packs will come with six cards in each pack and 24 packs in every box. These packs will cost more than the traditional ones.
Susan Lulgjuraj is an editor at Beckett Media. You can email her here with questions, comments or ideas. Follow her on Twitter here. Follow Beckett Media on Facebook and Twitter.