First look: 2014 Elite Football cards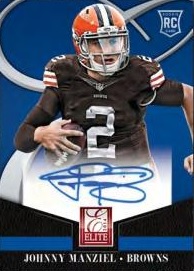 By Susan Lulgjuraj | Beckett Football Editor
Panini America will feature 2014 rookies in the NFL uniforms in Elite Football.
Each box of 2014 Elite Football will contain 20 packs per box with five cards in each pack. Each box will also have four hits per box and three Rookie Cards numbered to 999 in each box.
The rookie autographs feature on-card autographs. In addition, this will be the first Panini product to showcase the players in their NFL uniforms. Another autograph hits include RPS Rookie Inscriptions, Elite Rookie Premiere Signatures and New Breed Signatures.
The Down and Distance memorabilia cards will utilize down markers for rarity of the card. First down will numbered to 99 or less, second down will be numbered 49 or less, third down will be numbered 25 or less, and fourth down will be numbered to 10 or less.
Other memorabilia cards include Throwback Threads, New Breed, Sophomore Swatches, and Gridiron Jersey Kings.
Elite will feature several inserts and collectors can expect to find about nine inserts in every box. Some of the inserts include Elite Series, Face 2 Face, Profiles, Turn of the Century, Passing the Torch, and Clarity (Plexi-Glass card).
The base set will contain 200 cards with 100 Rookie Cards. Rookie Cards will feature six different parallels, including Gold Status Die-Cut (numbered to 49), Red Status Die-Cut (numbered to 25) and Black Status Die-Cut (1-of-1).
2014 Elite Football is scheduled to come out on July 25.
Susan Lulgjuraj is an editor at Beckett Media. You can email her here with questions, comments or ideas. Follow her on Twitter here. Follow Beckett Media on Facebook and Twitter.