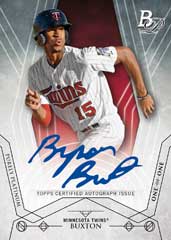 By Chris Olds | Beckett Baseball Editor
Bowman is going platinum for the fifth time.
Topps revealed the basics on 2014 Bowman Platinum on Tuesday, with the prospecting line back for the fifth year in a row packing the familiar two autographed prospect Refractors and one autographed Relic per 20-pack hobby box.
It will arrive on July 30.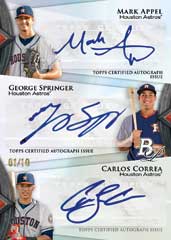 A preliminary checklist was not released and the base set's size was not announced, but the prospect portion of the product will include a 100-card base set. The standard cards (veterans and rookies) will have four parallels — Gold, Blue, Ruby, and 1/1 printing plates — while the prospects will have  10 parallels. Among them are 1/1 Superfractors and printing plates along with Atomic (/5), Orange (/10), Red (/25), Gold (/50), Blue (/199), and Green (/399) Refractors along with X-fractors and standard Refractors. The four rarest types will only be found in hobby boxes.
For autographs, there will be eight types of cards for prospectors to chase. There will be 1/1 printing plates and Supers as well as Atomic (/5), Black (/10), Red (/25), Gold (/50), Blue (/199) and Green (/399) autos. Again, the four rarest will only be found in hobby packs.
Also of note for the autograph collectors in this one will be Purely Platinum autos — 1/1 card printed on "simulated metal" — along with dual and triple autos limited to just 25 and 10 copies respectively. Also back will be the Bowman Black cards, each limited to 25, with a new /10 Violet parallel for those cards. Also to chase are Hexagraphs that have six players — a mix of rookies, veterans and prospects. Those will be limited to just five copies per card.
For the autographed Relics offerings, there will be Platinum Cut Relics limited to 49 copies, while auto Relics and auto jumbo Relics will have six versions to chase — 1/1 plates and Supers as well as Atomics (/5), Red (/25), Gold (/50) and Blue (/199). In this case, the three rarest versions will he hobby-only.
For insert card collectors, there will be three options to chase that are unique to this brand. There will be Toolsy Diecuts, which will showcase each of the five tools a player might have — power, speed, hits for average, good arm, good fielding — as well as a sixth set for those players who have them all. The second set will be Cutting Edge Stars, which will have Relics limited to 50 and autos limited to 25, while Top Prospects will be diecut and limited to 25 with autographed versions limited to just five copies apiece.
For an added chase, the 1989 Bowman is Back continuity cards return here. Silver Diamond Refactors will be the standard card here, while Black Refractor autos will be hobby-only finds and limited to 25. Also to chase will be 1/1 Prospect Bat Plate cards and redemptions for full memorabilia pieces from the Arizona Fall League. In addition, there will be a contest to attend the 2014 Bowman Fall Stars Game at the Arizona Fall League and get behind-the-scenes access at the event.
Chris Olds is the editor of Beckett Baseball and Beckett Sports Card Monthly magazines. Have a comment, question or idea? Send an email to him at colds@beckett.com. Follow him on Twitter by clicking here.