First look: 2014 Bowman Inception baseball cards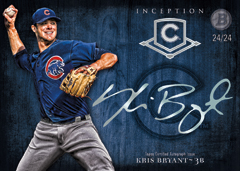 By Chris Olds | Beckett Baseball Editor
Bowman Inception will be back for a sophomore season in 2014.
Topps unveiled the first looks at and the preliminary information for the second run at the higher-end, hits-only prospecting line on Friday, and it's one that will include some new features as well.
Set to arrive on June 18, it will include with boxes per case with each box including just five cards. Each pack will include four autographs and one autographed Relic.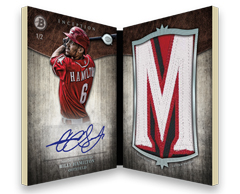 All prospect autographs will be signed on-card with nine parallels per card. The shades will include Gold (/99), Blue (/75), Pink (50), Green (/25), Red (/10), Purple (/5) and 1/1 Inception parallels and printing plates. An Inscription auto parallel will be limited to just 10 copies per card. Rookie Autographs will also be signed on card with the exact same parallels and quantities.
Silver Signings autographs will be found for both rookies and prospects with each card signed in silver ink and limited to 24. There also will be a Metallic Red ink parallel limited to five and a 1/1 Gold auto as well.
New for 2014 will be Inceptioned Autos, which will have a standard 2014 Bowman card enhanced with the Inception photo treatments. These will be limited to just 35 copies per player.
Also to be found are Bowman Black cards, which will be signed in silver and limited to 25.
On the autographed Relics side, there will be stickers for the sigs for prospects and rookies. Each card will have nine parallels — Pink (/50), Green (/25), Orange Patch (/15), Red Patch (/10), Gold (/10), Purple Jumbo Patch (/5), Blue Jumbo (/5) and 1/1 Inception Patch Jumbo and Silver Jumbo cards.  Dual patch autos will be limited to 15 cards, while triples will be limited to five.
For the deluxe auto Relics there will be autographed letter patch booklets limited to just two copies per player and MLB logoman autos that are 1/1s.
The 1989 Bowman is Back continuity program will continue in this one with Silver Diamond Refractors to be found, while a contest card will send one collector to the Under-Armour All-American game.
A preliminary checklist and set sizes were not announced.
Chris Olds is the editor of Beckett Baseball and Beckett Sports Card Monthly magazines. Have a comment, question or idea? Send an email to him at colds@beckett.com. Follow him on Twitter by clicking here.