First look: 2014 Bowman Chrome baseball cards
Update (March 3): Topps has announced that there will be five prospect autographs in every HTA Jumbo box. It also showed off the Bubbles Refractor, above.
—
By Chris Olds | Beckett Baseball Editor
Topps is hoping to heat things up in 2014 Bowman Chrome with extra ink and some new inserts.
The company offered the first looks and basic info for the brand on Friday, and the biggest news for Chromies might be the fact that there will now be two autographs per standard 18-pack hobby box.
And yet there's even more in store.
Set to arrive on Sept. 24, the basic set will include 220 MLB players — a mix of 170 veterans and 50 rookies — while the prospects set will include 100 players.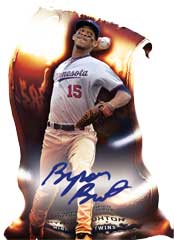 New this year will be Fire diecut Refractor cards, which also will be found with autographed versions. The standard cards will showcase 50 prospects and rookies with the cards also found with Atomic (/99), Xfractor (/25) and 1/1 hobby-only Superfractor versions. The signed cards will be numbered to 25, while those also will have a 1/1 Super to chase.
Joining these cards on the new and diecut front are "Dualing Diecuts" which pair two players on a horizontal design with each limited to 99 copies for Atomics, 25 for Xfractors and just a single copy for Supers.
The standard cards in the set will have their own rainbows, as usual, with there being standard Refractors (/500) along with Blue (/250), Purple (/150), a new Bubbles Refractor (/99), Green (/75), Gold (/50), new Carbon Fiber (/25), Red (/5) and 1/1 Supers and printing plates among them.
New this year will be prospect error card variations — no details there — while 10 of the rookies in the base set also having photo variation cards that are limited to just 99 copies apiece.
Also to be found this year are Black Wave Refractor Hot Packs that will have four prospect cards inside enhanced along with Silver Wave Chrome Refractor Hot Packs as well. Those cards will be limited to just 10 copies apiece.
For the autographs, there will be Prospects and Rookies all signing on-card with 10 parallels and printing plates to chase. New inclusions will be the Bubbles (/99), Carbon Fiber (/25), Purple Bubbles (/10) and Twitter-Blue Social Media graphs (/10), while the remainder of the inked rainbow will be Refractors (/500), Blue (/150), Green (/75), Gold (/50), Red (/5) and 1/1 Supers and autographed printing plates.
A mini Chrome presence will return — this time with diecuts and autographs in the mix. Autos will be limited to 10 and use sticker sigs, while diecuts will be limited to 150, Blue Waves to 99, Black Waves to 25, Red Waves to five and Supers to just one.
Also back in this one will be the 1989 Bowman is Back continuity program where Super Jumbo Refractors will be found in Super Jumbo boxes and limited to 10 while Black Diamond Refractors will be found in hobby and jumbo only and be limited to 15. Rounding things out will be the Bowman Black autos with those cards limited to 25, while a Violet parallel of these cards will be limited to 10. A final inclusion will be Aflac All-American and Under-Armour prep autographs.
A preliminary checklist was not released.
Chris Olds is the editor of Beckett Baseball and Beckett Sports Card Monthly magazines. Have a comment, question or idea? Send an email to him at colds@beckett.com. Follow him on Twitter by clicking here.
—
Loading ...
—