2014 Bowman Baseball Details
The big and the small return in 2014 Bowman Baseball.
Topps revealed the first looks and basic details for 2014 Bowman on Friday, and it will be a product that builds upon the mini presence introduced this season and add a jumbo twist for next.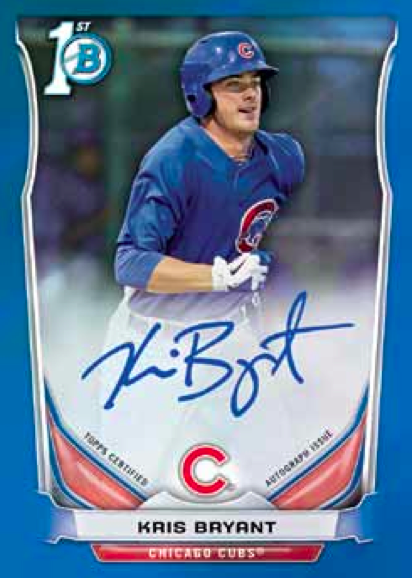 How? With a nod to the 1989 Bowman set, which arrived 25 years ago next summer.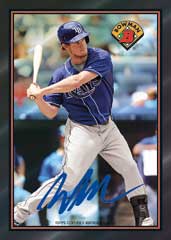 Set to arrive on April 30 with HTA Jumbo boxes containing 12 packs and three hits per — or 24-pack hobby boxes with one, Bowman will include jumbo box-toppers in the style of the 1989 relaunch of the brand as well as inserts that will look back to the days that ended a decades-long drought for the name before it returned and became the de facto prospecting brand in the hobby.
The base set will consist of 220 cards each with 12 parallels — five of which are new. There will be Blue (/500), Orange (/250), Gold (/50) and 1/1 Reds and printing plates as we are used to, while Green (/150), Yellow (/99) Silver (/75), Black (/25) and Purple (/10) will be new in hobby packs. In addition, there will be State parallels as in recent years. For the prospects, there will be 110 cards each with Blue (/500), Orange (/250) and 1/1 Red and printing plates.  In addition, there will be Silver Ice parallels one per hobby box or two per Jumbo. Reds will be limited to 25, Purples to 10 and Whites are 1/1s.
The Chrome presence will include several inserts on top of the prospects Chrome set, which will include nine parallels — Refractor (/500), Blue (/250), Black (/99), Green (/75), Gold (/50), Orange (/25) and Red (/5) and 1/1 plates and Superfractors.
Chrome prospect autos will be hobby-only and include two new shades — Black (/99) an Green (/75) — atop standard Refractors (/500), Blue (/150), Gold (/50), Orange (/25), Purple (/10, HTA Jumbo-only) and Red (/5) along with 1/1 Supers and plates. Autographed Chrome Rookies will have the same shades but with Blues limited to 250, Blacks to 35,  and Greens to 20. Greens and plate autos will only be found in Jumbo boxes. Red Ice autos will be limited to 25, while Purple Ice autos will be limited to 10.
With the "1989 Bowman is Back" angle, Topps is including a continuity program — a set of 1989-style cards that will be found in all 2014 Bowman lines. The Black Refractor autos will be limited to 25, while autographed buybacks will be limited to five copies. Box-topper autos in the 1989 style will be limited to 20 along with oversized Silver Ice cards limited to 99, Red Ice limited to 10 and Whites limited to one copy. If you want ink and Ice, there's a Purple version to chase that's limited to 25.
Fans of the Blue Wave wrapper redemptions should be excited to find that there will be Hot Packs with two types of Wave Refractors inside of boxes next year. Blue Wave packs will also include Reds that will be limited to 25 copies per card. Blue autos will be limited to 50 per player. Black Wave packs will include Silver Waves limited to 25 with autos limited to 50.
The Bowman Lucky Redemptions will be back with five 2014 rookies getting cards, while other rarer bonuses will include high school All-American game autos from the AFLAC/Perfect Game and Under Armour events. An Ultimate Prospect auto book will also be made — just five copies to chase there. Also to be found are Futures Game Relics from this year's game, limited to 25, with Dual Franchise Refractor autos limited to 25 that also will have Red (/5) and 1/1 Superfrctor versions.
Also among the inserts will be Bowman Top 100 cards once again with three rarer parallels there — a diecut Refractor (/99), a signed diecut Refractor (/24) and a 1/1 Atomic auto diecut. Also returning will be Bowman Black autos limited to 25, Bowman Black Violet parallels (/10) and Social Mediagraphs that include a Twitter handle along with a sig limited to 10 copies.
The mini cards introduced this year will be back — with autographs and even more Refractors in tow. The top five players in each organization will be highlighted here with Blue (/250), Orange (/50), Gold (/25), Black (/15), Green (/10) and Red (/5) cards along with 1/1 Superfractors. For the autos, there will be Gold autos (/25), Reds (/5) and 1/1 Supers.
Last but not least, a Golden Debut contract contest will be included with all who find getting a signed baseball from a top prospect. All winners will be entered into a contest to have a card in the 2015 Bowman set.