First Look: 2014-15 Upper Deck Trilogy Hockey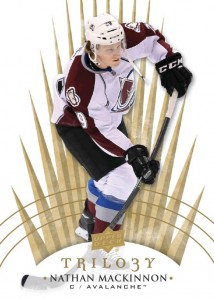 By Stephen Laroche | Beckett Hockey Editor
Good things sometimes seem to come in groups of three and the upcoming release of 2014-15 Trilogy Hockey from Upper Deck is certainly hoping to put that theory to the test once again later this year.
Arriving in time for the holiday season, Trilogy has traditionally offered up three major categories of hits since its debut back in 2003-04. This time, it's all about autographs, rookies and memorabilia cards and there are some interesting changes that should be able to generate some interest from collectors.
What can collectors expect to find in packs of Trilogy? Find out after the jump.
The biggest addition to the Trilogy lineup comes in the form of the Triptych relic cards. The concept here is that there will be three individual cards for a player featuring different pieces of memorabilia or an autograph. Those that manage to track down all three cards can put them together in a sequence that has solid eye appeal and some of the individual cards will likely prove to be quite limited.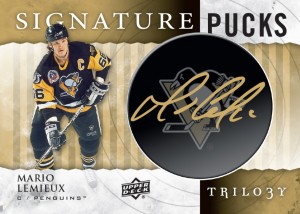 Returning for another season will be Signature Pucks, which received a lot of attention last year. These unique autograph cards feature a signature on top of small puck replicas bearing current or retro team logos or an NHL shield. Ice Scripts will be back again as well and they always look great since they are printed on Plexiglass stock.
At a first glance, the base set design does have the type of look hobbyists have come to expect in Trilogy, but the Crystal subset cards are certain to have more than their fair share of followers as usual. Upper Deck has already noted that 20 of the top rookies will be available in this format as Crysyal Premieres and there will be veteran subset cards as well.
The biggest chase for those wanting to complete the set will once again be the rookie cards and there will be three levels to track down. Level 1 cards are numbered to 799, but the Level 2 cards feature autographs will be limited to 399 copies. The final version of the rookies shows Upper Deck bringing a personalized touch as the depicted freshmen also added an inscription along with their signature. At just 49 copies each, they will certainly be a much more challenging pull and the added notation is a nice bonus instead of something like a small aesthetic change to foil.
Each pack of Trilogy will contain five cards and there will be nine packs in every box. The typical box break is expected to yield four numbered chase cards and three of those will usually be rookie cards. However, some of those numbered hits could be 1/1 Press Plates or Black parallel cards limited to three copies. The rest of that box should contain one Crystal plexiglass card, a numbered Rookie Auto, a Tryptich relic, an additional Rookie or Tryptich and one premium autograph. A premium autograph hit will come from sets such as Ice Scripts, Signature Pucks and Tryptich Signatures.
Upper Deck also noted that an average inner shipper break of Trilogy should deliver a total of 12 autograph cards, 12 Triptych relics, eight Crystal cards, and eight premium autographs.
Stephen Laroche is the editor of Beckett Hockey and Beckett Basketball magazines. Have a comment, question or idea? Send an e-mail to him at SLaroche@beckett.com. Follow him on Twitter @Stephen_Laroche.