First Look: 2014-15 Upper Deck SPx Hockey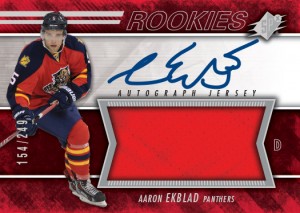 By Stephen Laroche | Beckett Hockey Editor
One of the hobby's flashiest sets is back again in action as preliminary details about 2014-15 SPx Hockey from Upper Deck have surfaced. For many years, this has been a huge release for many collectors as it offers up autographed memorabilia cards of the hottest rookies along with many other eye-catching hits.
This year, the new class of prospects will be appearing on Light FX Precious Metal Gems-style cards and the 60-card subset is tiered to ensure long-term interest. There will be 18 Top Prospects autos that are numbered to 249 and the remainder are Auto Jersey cards which have 30 players limited to 499 copies while the other 12 will be limited to just 249. To top it all off, there will be Blue (numbered to 50) and Green (limited to 10) parallels that will include some inscriptions.
Set to arrive in January, 2015, this product is expected to make some waves once again and you can find more information after the jump.
Perhaps the biggest surprise this season is something that will appeal to those who enjoyed the brand when it was new in the late 1990s. It will be a sizeable 90-card effort that features 30 rookies and a total of six of these cards are expected to come out of each box. Of the six, two of them will be freshmen and hobbyists can also search for Grand Finale parallel versions that will be 120 points thick.
Each pack of SPx will contain four cards and there are 12 packs per box. Hobbyists can anticipate finding four autograph, memorabilia or premium hits in each box as well. All told, those busting will normally also find three High-Series Foil Rookies and two relic cards unless they are lucky enough to find one of the afformentioned Grand Finale cards. There will also be a hit that could include such premium cards as Rookie Premier Materials Trios, a Flashback Fabrics Patch, a Shadow Box or even an SPx Buyback Auto. There are parallel versions of some of the big hits that are sure to be heavily chased, including the drool-worthy Shadow Box Autos.
As a final bonus, each box is going to contain one SPx Finite Phenoms bonus pack. Inside, collectors will find just one card, but it will feature one of 42 different prospects. There are three levels of scarcity limited to 499, 199 or 99 copies and each inner shipper case will see one or two autograph cards be pulled.
Stephen Laroche is the editor of Beckett Hockey and Beckett Basketball magazines. Have a comment, question or idea? Send an e-mail to him at SLaroche@beckett.com. Follow him on Twitter @Stephen_Laroche.