First Look: 2014-15 Upper Deck Premier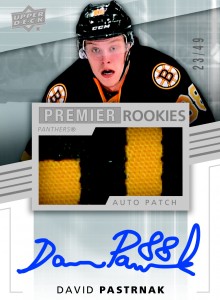 By Stephen Laroche | Beckett Hockey Editor
A hobby favorite is coming back again later this season after a long hiatus as 2014-15 Upper Deck Premier is set to make its way to card shops and deliver some memorable hits.
Scheduled for a mid-May release, Premier will be issued in seven-card tins that breaks down into one Acetate Rookie Auto Patch, two base cards and four autograph or memorabilia cards. The company recently released details regarding what collectors can expect to find in packs and there will be a lot of excitement over the Mega Patches with jumbo 1.75″ X 2.75″ game-worn patch pieces and the throwback Super Rookie Premier Collection Rookie Auto Patches that utilize a popular design from the 2002-03 season.
With plenty of strong rookie, patch and autograph content, this may be a big hit with those that love super-premium products and you can find out more about 2014-15 Upper Deck Premier after the jump.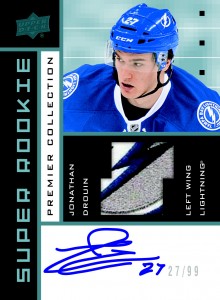 The Premier base set is expected to contain a strong mix of players and the two cards in each tin will be split between veterans and rookies. There will also be Premier Rookie Auto Patches that are printed on acetate stock and numbered to 199 or 299 copies in addition to 20 different Rookie Autos. Those premium pulls have three levels of tough-to-find parallels as well limited to 49 or 10 along with a one-of-one version.
Upper Deck has also teased that there will be a large assortment of hard-signed autographs. The two sets mentioned thus far are Signature Champions and Inked Inscriptions, which are numbered to 99 or less.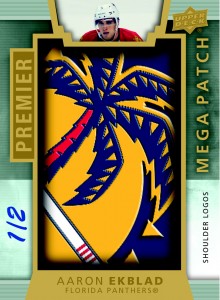 As an additional note regarding the Mega Patch cards, the pieces on these hand-numbered cards (limited to one or two copies) will be taken from chest logos and sleeve numbers as well as shoulder and commemorative patches. Mega Patch Duos are also going to be pulled by some lucky hobbyists and they will have two big pieces from two different NHL players.
The history of Upper Deck's version of the Premier brand dates back to the 2001-02 season as Premier Collection was one of the earliest super-premium releases. The autographed rookie patches that popped out of packs over its three-year run are still quite popular with collectors today and the product was rebranded as Ultimate Collection in 2004-05. The name change was certainly controversial at the time due to the potential confusion with In The Game's Ultimate Memorabilia releases, but the two companies carved out niches and dedicated followings in the battle for the hearts of collectors over the course of 10 seasons.
While some collectors were speculating online that Premier will serve as a replacement for Ultimate Collection, Upper Deck has confirmed that is not the case. Expect to see preliminary details regarding the release of 2014-15 Upper Deck Ultimate Collection from Beckett in the next few weeks.
Stephen Laroche is the editor of Beckett Hockey and Beckett Basketball magazines. Have a comment, question or idea? Send an e-mail to him at SLaroche@beckett.com. Follow him on Twitter @Stephen_Laroche.