First Look: 2014-15 Upper Deck ICE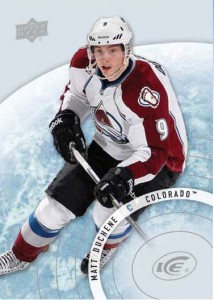 By Stephen Laroche | Beckett Hockey Editor
A release that had been relegated to being a box topper bonus in recent years, Upper Deck ICE has long held a prominent place in the hearts of collectors and the company is finally bringing it back as a full-fledged product for the 2014-15 season.
With an all-acetate base set and plenty of strong hits, ICE is slated for a mid-March street date and will certainly be welcomed back by many. The brand has a tradition that dates back nearly 20 years and its return to shops could help it once again retain a prominent place in the hobby.
What can be found in packs of 2014-15 Upper Deck ICE? Find out after the jump.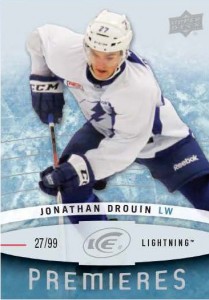 In 1996-97, ICE proved to be a revolutionary set due to the fact that each card was printed on acetate stock and unfortunately, that tradition was ultimately lost in the years that followed and it was reserved only for subsets and inserts. This season, there will be a large 210-card set that will be very challenging to build due to several shortprinted subsets and some are split into tiers. Compounding the difficulty is the fact that there are only three cards per pack – and a good number of them will be inserts.
The basic set is only made up of 42 cards, but they are supplemented by 30 Goalies (1:3) and 12 Legends (1:7). From there, things start to get more difficult with a 21-card World Juniors that is split into three tiers (Tier 3 – 16 cards, #'d to 1,249, Tier 2 – 3 cards, #'d to 749, and Tier 1 – 2 cards, #'d to 249).
Finishing off the set as expected are the Ice Premieres, which are available in five different tiers (Tier 5 – 24 cards, #'d to 999, Tier 4 – 36 cards, #'d to 799, Tier 3 – 24 cards, #'d to 499, Tier 2 – 6 cards – #'d to 299, and Tier 1 – 15 cards, #'d to 99). Naturally, this season's top freshmen will be part of Tier 1, but there could be some dark horse talents in the lower tiers that could prove to be sound investments.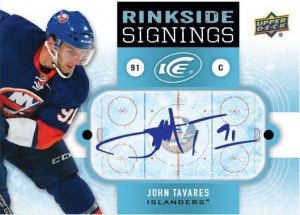 Autograph content is a major part of ICE's enduring appeal and Glacial Graphs (1:35) will return along with Signature Swatches (1:128) and the striking Rinkside Signings (1:64). There will also be all-new Ice Premieres auto variations (1:16) along with an Auto Patch version that will be limited to just 10 copies. Memorabilia hits will include Frozen Foursomes (1:45), Frozen Fabrics (1:21) and Fresh Threads (1:21).
As a special added bonus, there will be plenty of UD Black content to be found in boxes of ICE. In addition to a limited base set (#'d to 225) and Black Rookies (#'d to 299), look for three levels of Lustrous Signatures (#'d to 99 or less) and a selection of Autographed Lustrous Rookies that are an easier pull since they are numbered to 349 copies.
The average eight-pack box break will give collectors eight shortprints (four Goalies or Legends, one World Juniors and three Ice Premieres) along with one autographed acetate card, one memorabilia card, and one UD Black card. For those busting an eight-box inner case, expect to find four Ice Premieres Auto variations, one or more Frozen Foursomes, one Signature Swatches or Glacial Graphs Gold, one Rinkside Signings, one UD Black Lustrous Material along with an additional low-numbered hit. Those hits could come from such collections as Ice Premieres Auto Patch (#'d to 10), Glacial Graphs Black (#'d to 10 or less), Signatures Swatches Gold (#'d to 10 or less), Signature Swatches Black (one-of-one), Frozen Foursomes Gold (#'d to 30 or less), Frozen Foursomes Black (#'d to 5), Frozen Fabrics/Fresh Threads Gold (#'d to 30 or less), Frozen Fabrics/Fresh Threads Black (#'d to 5), and UD Black Lustrous Signatures Level 2 (#d to 49) or Level 3 (#'d to 25).
Stephen Laroche is the editor of Beckett Hockey and Beckett Basketball magazines. Have a comment, question or idea? Send an e-mail to him at SLaroche@beckett.com. Follow him on Twitter @Stephen_Laroche.