2014-15 SPx Basketball Details
2014-15 SPx Basketball is the first time the brand has been a part of the company's lineup since 2008-09 and there have been some improvements that are sure to appeal to many hobbyists. Propelled by the presence of one strong hit in every five-card pack, it looks at the latest players to make the jump to the pro level along with a rarely-matched selection of collegiate legends.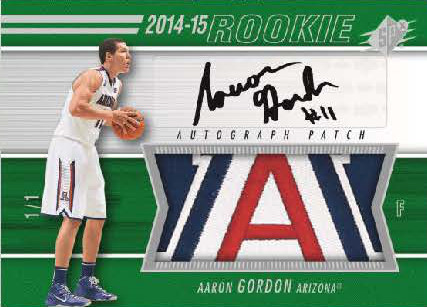 The base set for SPx will contain just 75 cards, but there will be plenty of people making a run at the full set that will feature SPx Rookie Auto Jersey cards numbered to 475 or less. Printed in the popular Precious Metal Gems style, the visual appeal is off the charts and the lineup boasts such rising talents as Aaron Gordon, Doug McDermott and Shabazz Napier. There will be a blue parallel limited to 30 copies and a super-scarce Green version that is a one-of-one. Both of these parallels will feature patch pieces instead of jersey swatches. Some cards in the base set will also have a die-cut autograph parallel that will be difficult to pull.
Some of the most striking hits to be found in SPx are a throwback to the late 1990s as there will be small sets that utilize designs that were issued back in 1996-97 and 1997-98. Another solid set found in boxes will be SPx Finite Rookies which contain players from all eras. In addition to being limited to only 799 copies, there will be tough Radiance and Specturm parallels that will be chased – especially by player or school collectors.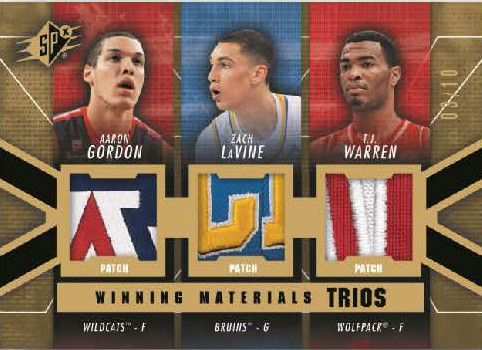 Upper Deck also teased some of the memorabilia cards that will be part of SPx. Among the sets featuring one to three swatches to be found are Winning Big Materials, Winning Materials Combos and Winning Materials Trios. The autograph lineup is also expected to have some big hits as Super Scripts and SPx Signatures will each be falling once in every 90 packs on average. There will be die-cut parallels, too, and they are numbered to only three copies each.
Each 10-pack box will contain a two or three autographs (including one Rookie Auto Jersey), one or two memorabilia cards, three Finite Rookies or Finite Legends and three Holograms. As a special bonus, each full case will contain four UD Premier Basketball packs. The autographed memorabilia cards inside each one will be numbered to 75 or less.