First Look: 2014-15 Panini Totally Certified Basketball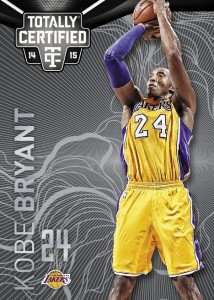 By Stephen Laroche | Beckett Basketball Editor
It is not going to take long for the first premium basketball card brand to hit the shelves this season and at a first glance, 2014-15 Panini Totally Certified looks to be loaded with plenty of hits.
With each five-card pack containing one parallel card along with either an autograph or memorabilia card, Totally Certified cuts right to the chase and offers up a lot that will be of interest to player collectors. Boxes will contain four packs and there is an average of one autograph per box while the rest of the packs are set to contain memorabilia cards.
What else can be found in 2014-15 Panini Totally Certified Basketball? Find out after the jump.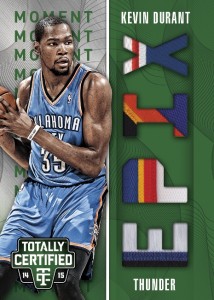 The fun starts with a base set featuring many of today's biggest stars, but the real attraction here is the stunning array of parallels. The easiest tier to pull will be the Mirror Red (numbered to 135) and the chase gets a bit more intense as other tiers feature die-cutting. According to the product information sheet provided by Panini, there will be Platinum Purple Die-Cuts limited to 25 in addition Mirror Blue Die-Cuts (numbered to 75), Mirror Gold Die-Cuts (numbered to 10) and, finally, the heavily-coveted 1/1 Mirror Black Die-Cuts.
The Mirror parallels will be printed on holographic card stock and Panini America has also stated that there will be 20 shortprinted cards in the base set that will feature big names.
The main memorabilia hits that many will be chasing are the always-popular Epix cards. With between one to four swatches and four levels of scarcity, collectors can look for Ruby (limited to 199), Sapphire (numbered to 149), Gold (numbered to 10) and Emerald (limited to 5) tiers for each player in the set. Putting together a rainbow of this nature will be both challenging and satisfying for those will to track them down.
Panini also revealed that there will be a new memorabilia set seeded into packs. Clear Cloth features a see-through window and had been well-received when it debuted in last year's Totally Certified Hockey release.
Finally, Rookie Roll Call autographs are returning and will depict members of this season's hotly-anticipated freshman class. Limited to just 299 copies each, they are hard-signed and will be quite popular once some of the rookies begin to take flight.
Expected to hit store shelves in November, 2014-15 Panini Totally Certified is going to be a hit-focused product that manages to cover the basics that many collectors crave in addition to offering the potential for plenty of monumental pulls.
Stephen Laroche is the editor of Beckett Basketball and Beckett Hockey magazines. Have a comment, question or idea? Send an e-mail to him at slaroche@beckett.com. Follow him on Twitter @Stephen_Laroche.