First Look: 2014-15 Panini Threads Basketball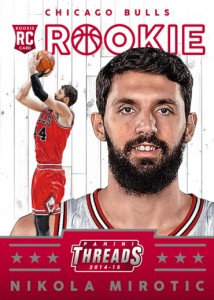 By Stephen Laroche | Beckett Basketball Editor
The relationship between Panini America and Target continues on with the upcoming release of 2014-15 Panini Threads Basketball, which is expected to hit the shelves later this month.
This is the second of three exclusive releases the chain will see this season and it will once again have multiple pack and box configurations to appeal to a wider array of collectors. Threads is returning to the hobby after a one-year hiatus and Panini recently gave hobbyists a sneak peek of some of the cards via its blog.
What can collectors expect to find in 2014-15 Panini Threads Basketball? Find out after the jump.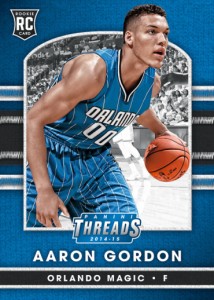 Threads will be available in gravity packs ($4 SRP), blaster boxes ($30 SRP) and premium boxes ($120 SRP). The latter is expected to contain two autographs and two memorabilia cards, one of which will come from the Rookie Memorabilia set.
In addition to a large base set, all packs will contain the Team Threads Rookies, which make cards 201-240 of the set. To get the Leather Rookie Cards (241-285), collectors will need open premium boxes and gravity packs feature Micro-Etch Rookie Cards (286-330). Rounding out the set are the Wood Rookie Cards (331-375) that are only available in blasters.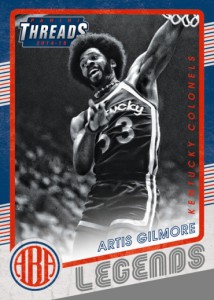 Threads will also have a wide selection of autographed cards as hits Rookie Signage will only be found inside loose packs or blasters. Voices of the Game Autographs are expected to be popular and the lineup includes Dick Vitale and Bob Knight in addition to first-time signers Craig Sager and Ernie Johnson. Rounding out the ink lineup at this time are the innovative View Autographs and Rookie View Autographs that are sure to capture some attention.
There will also be plenty of non-memorabilia inserts to chase. ABA Legends will appeal to old school fans while High Flyers depict today's most exciting stars in action. The toughest to get will be Century Stars, that fall approximately once per premium case.
Stephen Laroche is the editor of Beckett Basketball and Beckett Hockey magazines. Have a comment, question or idea? Send an e-mail to him at slaroche@beckett.com. Follow him on Twitter @Stephen_Laroche.