2014-15 Panini Prestige Basketball Details
A change for a long-standing trading card product can occasionally be a good thing and in the case of 2014-15 Panini Prestige Basketball, the move to becoming a retail exclusive could prove to be a smart move – especially with a variety of methods for purchasing them at Target locations.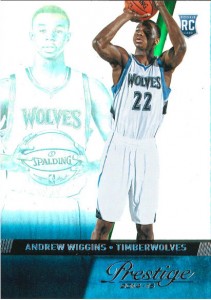 Hitting store shelves this week, collectors will be able to acquire this new product in the traditional single-pack method, of course; but they can also choose to instead purchase hanger boxes (with a $10 Suggested Retail Price), blasters ($20 SRP), Plus Boxes ($65 SRP) or even take it to a new level with the $200 Premium boxes.
What does Panini America have planned for hobbyists and shoppers? Find out after the jump.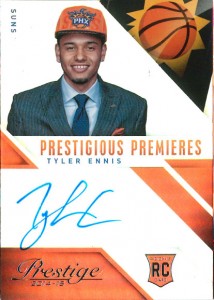 With the basic 10-card packs of Prestige, collects can expect to pull one rookie card and while the hanger boxes will contain the same number of cards, there will be rookies that are exclusive to them which are certain to have set completists on the hunt. By moving up to the blasters, you will be busting open seven packs and should receive at least one autograph or memorabilia card as well.
In an interesting move, the 10-pack Prestige Plus boxes add a new dimension to the product as all of the cards were printed on a metallized stock. There is also the added bonus of three autograph or memorabilia hits and 10 inserts or parallels. The rookie chase is also altered a bit here as there are 10 expected in each box, but one of them will be a parallel version that is numbered to 199 copies or less.
The presence of the Premium Boxes, though, demonstrates an impressive risk on Panini's part to offer retail trading card consumers the opportunity to enjoy a box with the type of quality and hits found in a hobby release. Each one sees four packs which contain a total of 60 cards printed on a thick holographic stock. It is likely that the most chased of the cards inside will be the four autographs and one of those will be a hard-signed Prestigious Premieres card that depicts a member of this year's hotly-anticipated rookie crop. There will also be 10 rookies (including one parallel), a memorabilia card and five more parallels (numbered to 199 or less) as well.
In a recent sample break of the Premium Box shown on Panini's official blog, there were some intriguing cards shown; including such inserts as Connections that pairs a current player and a retired great, autograph cards like Bonus Shots that have die-cut and unsigned memorabilia versions, and a virtual rainbow of base set parallels.
By essentially having three versions of the Prestige product, player collectors are given something to seriously chase after and the occasionally unpredictable nature of how retail-exclusive cards end up in the hands of hobbyists makes Prestige a very interesting experiment by Panini. For those who complain that big pulls are not found very often in retail packs, their perception may be about to change when it comes to some offerings as the company plans two more non-hobby NBA products by the end of this season.