2014-15 Panini Excalibur Basketball Details
Panini America has tried something new with some of its NBA releases this season and partnered up with Target to ensure that three of them were going to be exclusive to the retail giant. With Prestige and Threads getting new life brought into them in recent months by becoming retail exclusive, now it's 2014-15 Panini Excalibur Basketball.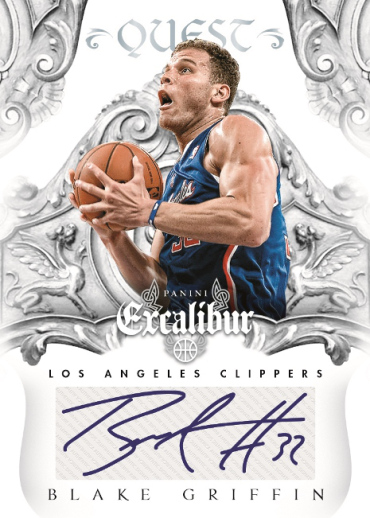 New to the basketball market, there are only scant details available regarding Excalibur at this time, but Panini has noted that it will be available in three different formats. The most expensive is the Premium box which is set to contain three autograph or memorabilia hits along with at least three always-popular Crusade cards. For those that want to dabble first but at least pull something decent, blaster boxes will retail at $34.99. Finally, gravity feed packs provide a realistic shot at a good pull (two autograph or memorabilia cards per box)  without having to put much money down at the cash register.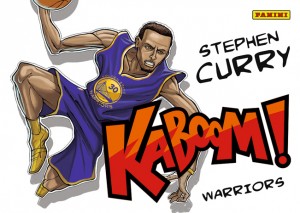 One of the biggest highlights for collectors busting the Premium boxes is the potential to pull the super-tough Kaboom! illustrated inserts featuring artwork from Gyula Nemeth. After debuting in 2013-14 Panini Innovation, the company has increased their scarcity and they are expected to perform well on the secondary market. Other cards exclusive to this stream include Rookie Rampage Duals (with a Prime variant) and a trio of autograph sets with Quest Signatures, Majestic Marks Signatures, and High Praise Signatures.
Blasters will provide some instant gratification through their lone hit and there are some memorabilia sets specifically created for them in Rookie Rampage Jumbos (with a Prime edition numbered to 25 plus blue and autograph parallels as well), and Sultans of Springfield. The gravity feed packs will include Knights of the Round (1:29) and an orange parallel card seeded once in every pack.
Images for the Juggernauts inserts and Red, White & Blue memorabilia cards have also been unveiled but their specific stream was not noted at this time. Details regarding the Excalibur base set and subsets should be announced in the future as well.