First Look: 2014-15 Leaf Signature Series Hockey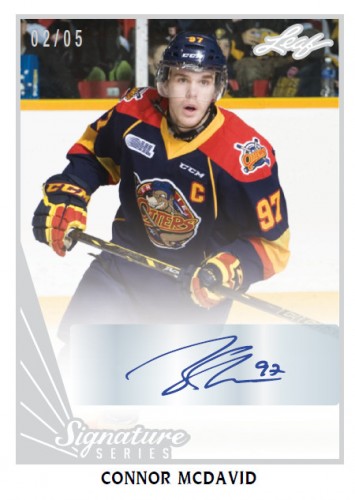 By Stephen Laroche | Beckett Hockey Editor
The Signature Series brand was once a staple for In The Game a decade ago, but Leaf Trading Cards is now reviving it for today's hockey hobbyists.
Releasing in late June, 2014-15 Leaf Signature Series gives collectors their last shot at Connor McDavid autographs before the young phenom heads to the NHL level. Each box will contain eight autographed cards and production is slated to be a low run of 250 12-box cases.
"We are very exited to add a signature product to the Leaf portfolio that delivers a fantastic variety of autographs from future Phenoms such as Connor McDavid to iconic legends like Gordie Howe," noted Gregg Kohn, Director of Product Development for Leaf. "The mixture of top prospects and legendary stars signatures is sure to please hardcore hockey fans!"
What else can you expect to find in this collection? Read on after the jump to find out.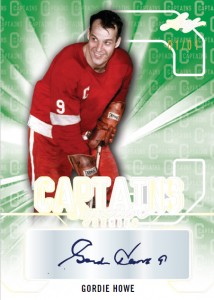 Due to Leaf's partnership with the Canadian Hockey League, there will be plenty of Signature Prospects Autographs to be found in boxes and many of the depicted players are expected to be selected early in the 2015 NHL Entry Draft. This set, like all of the others in this product, will have parallel versions which are limited to as little as one copy each. Prospectors can also pull Signature Prospect Memorabilia which features an autograph along with four pieces of memorabilia from the depicted player. McDavid closes out the junior action with his own Signature Moments collection which looks back on some of the biggest moments of his CHL career.
Drawing from the brand's previous history that carries over from In The Game, there will be many retired legends and Hall of Fame members making up some of the autograph checklists. Signature Champions Autographs pay tribute to those that hoisted the Stanley Cup while Signature MVP Autographs (single and dual variations) are all about the players which won the Hart Trophy as the NHL's Most Valuable Player. Signature Decades Autographs covers 50 years of hockey history while Signature Captains Autographs look back at some great talents who were chosen to wear the "C" for their respective clubs. Signature Dynasty Autographs recognize several players which played on multiple Stanley Cup championships with the same team. Finally, some of the biggest hits for many collectors are going to have a retro feel. The limited 1990 Leaf Tribute Autographs
use one of the hobby's most iconic designs and will depict a solid variety of stars. Those that fondly recall the United States winning a gold medal at the 1980 Winter Olympics are going to enjoy the Miracle Team Autographs and 16 living members of the Miracle On Ice club will have signed cards. There is also a set entitled Fourever Legends Autographs which combines four of the game's biggest names on one limited card.
Stephen Laroche is the editor of Beckett Hockey. Have a comment, question or idea? Send an e-mail to him at slaroche@beckett.com. Follow him on Twitter @Stephen_Laroche.