First Look: 2014-15 Leaf In The Game Used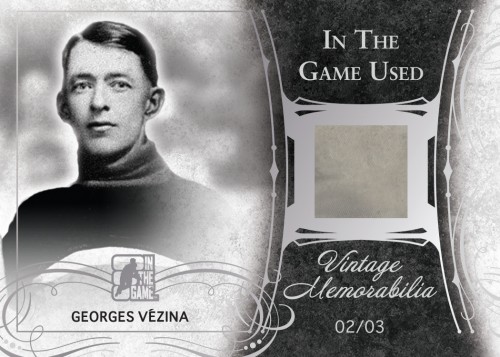 By Stephen Laroche | Beckett Hockey Editor
When Leaf Trading Cards merged with In The Game, it ended up acquiring a strong library of vintage hockey memorabilia that could possibly only be matched by the Hockey Hall of Fame itself and the company will be putting some pieces of it in the hands of collector with 2014-15 Leaf In The Game Used when it hits the market in time for the National Sports Collectors Convention in Chicago on July 29.
Last season, In The Game-Used was one of the last products that Dr. Brian Price and his team produced before the merger and it contained four game-used memorabilia cards in each pack with between one to four pieces in each of them. With this release, however, Leaf has decided to add a fifth card to bring more value to collectors and there will also be some cards with up to eight swatches to be found.
"It was very exciting to be able to work on a project like this featuring so many one of a kind memorabilia pieces that represent hockey history," said Leaf's Director of Product Development, Gregg Kohn. "No other company can deliver these kind of museum like memorabilia pieces! Hockey history, in my opinion, has never been shown like this before!"
What will collectors find in boxes of 2014-15 Leaf In The Game-Used? Find out after the jump.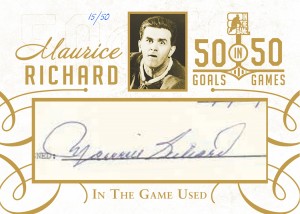 In a product of this nature, there are no base cards or non-memorabilia inserts. Instead, there will be some popular game-used concepts that carry over from the old In The Game regime and a few new ideas to help the brand remain fresh. Leaf has also signed some collector favorites that have not appeared in their hockey releases to date, including Tom Barrasso, Trevor Linden, and Curtis Joseph.
There will be a traditional Game-Used Jersey set featuring dual, triple and quad parallels of top players and it will have a Patch edition that could prove to be a challenging chase. The international theme that occasionally popped up in previous In The Game-Used releases is also present with 4 Your Country, which has strong combinations like Swedish legends Pelle Lindbergh, Mats Sundin, Peter Forsberg, and Nicklas Lidstrom or Canadian icons such as Bobby Clarke, Mike Bossy, Steve Shutt, and Phil Esposito.
New to In The Game-Used are sets such as Hat Trick, Maximum Memorabilia, and Stack The Pads. Hat Trick gives collectors memorabilia pieces from three prolific goal scorers while Maximum Memorabilia provides jumbo swatches that could come from patches, pads, jerseys, or gloves. Stack The Pads will have to pad swatches from one of the great goaltenders and the theme of multi-time Stanley Cup champions in front and center with Dynasty Collection and Dynasty Duos. Locker Room Collection is another addition to the brand and it will have several pieces of memorabilia on the same card to give collector a comprehensive assortment of swatches from the depicted player.
The eye-popping multi-swatch hits keep coming with Rare Materials, which features six different types of pieces from the same player. The one many collectors may be on the hunt for, though, is Vintage Memorabilia. With anywhere from one to eight players featured on these cards, those that pull them will be able to appreciate the history of the game in their hands. Fantasy Team 8's cover multiple eras on a single card and create some of the most incredible combinations of memorabilia ever seen in the hobby and one combination will bring together Gordie Howe, Wayne Gretzky, Doug Harvey, Terry Sawchuk, Ken Dryden, Maurice Richard, Bobby Hull, and Bobby Orr. Team 8's are also part of the lineup and will pair up players who all played for the same club over the years.
Perhaps one of the most exciting aspects of this collection will be the 50 in 50 Cut Signatures which celebrate the 70th anniversary of Maurice Richard becoming the first player in NHL history to score 50 goals in 50 games. He accomplished this feat back in the 1944-45 season and each of these cards (limited to 50 copies) will feature an authentic cut signature from the iconic superstar. Leaf has also noted that there will be In The Game Used Autographs.
Stephen Laroche is the editor of Beckett Hockey. Have a comment, question or idea? Send an e-mail to him at slaroche@beckett.com. Follow him on Twitter @Stephen_Laroche.