First Look: 2014-15 In The Game Leaf Metal Hockey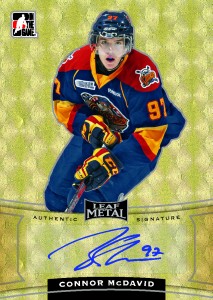 By Stephen Laroche | Beckett Hockey Editor
The partnership between Leaf Trading Cards and In The Game is set to enter into its third release as 2014-15 In The Game Leaf Metal Hockey will hit store shelves in February. While their first two products had been previously estabilished In The Game brands, this new creation has been a strong performer for Leaf in recent years and hits the ice with licensing from the Canadian Hockey League.
As a result, many of the game's hottest prospects will be featured here – including Connor McDavid, who many are pegging to be the first overall selection in the 2015 NHL Entry Draft. Each pack will contain five autographed cards and there will be some small sets that are exclusive to the American and Canadian markets.
What else can be found in packs of 2014-15 In The Game Leaf Metal Hockey? Find out after the jump.
Since this product steps away from the ones In The Game has done in the recent past, hockey collectors are going to get a look at what Leaf's design team and product development team is capable of achieving. With several different autograph sets found in packs of Metal, there will be plenty of options for collectors to choose from. The basic set will be the Metal Autographs, which are certain to include many other future stars outside of McDavid such as his Erie Otters teammate, Dylan Strome or Travis Konecny of the Ottawa 67's.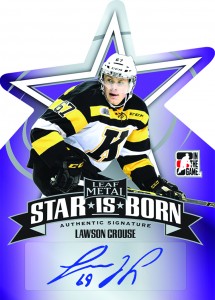 Perhaps the most visually striking of the autographed insert sets are the die-cuts. Teaser images for A Star Is Born and ETA:2015 are sure to have some collectors drooling as the potential roster of talent in their checklists is expected to be strong. The action continues with Metal Heroes, a collectionthat is expected to contain many top stars from the past and also with Canadian Pride autographs which will feature the nation's best from yesterday and today.
Rounding out the sets are the Team Effort Dual autograph cards and two players that have skated together at the junior level are paired up. The possibility of a Strome/McDavid card here will get many people excited, but there are bound to be plenty of cards that could be strong performers now and in the future if some of the players manage to break out.
Each of the collections listed above will have different levels of Prismatic parallels that will include the one-of-one Super Prismatic cards. Leaf also turns things up a notch by offering up etched parallels of the Metal Autographs that are exclusive to packs distributed in either the United States or Canada. Limited to just 10 copies each, they will feature either a series of stars or maple leaves in the background depending on which type of pack you pull them from.
Stephen Laroche is the editor of Beckett Hockey and Beckett Basketball magazines. Have a comment, question or idea? Send an e-mail to him at SLaroche@beckett.com. Follow him on Twitter @Stephen_Laroche.