First Look: 2014-15 In The Game Heroes & Prospects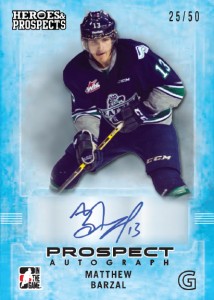 By Stephen Laroche | Beckett Hockey Editor
Heroes & Prospects is back again this season, but the hobby is in for a bit of a shock as the longest-running brand of CHL-licensed trading cards has undergone a major transformation since being moved over to Leaf Trading Cards.
2014-15 In The Game Heroes & Prospects has changed from a traditional wax pack product to a hits-only box. While some could argue that this transition may have been a long time coming, those that were loyal builders of the base set featuring a wider array of young talent will undoubtedly have strong opinions regarding the new direction it has taken. Each box will contain five autograph cards in addition to four game-used memorabilia cards.
The presence of autographs from some of the game's greatest legends along with big memorabilia and autographs from a group of prospects that includes potential first overall pick Connor McDavid will undoubtedly draw much attention. A dramatic 80 percent cut in product to a mere 200 10-box cases may also help it perform strongly on store shelves once it releases next month.
What will be found in boxes of 2014-15 In The Game Heroes & Prospects? Find out after the jump.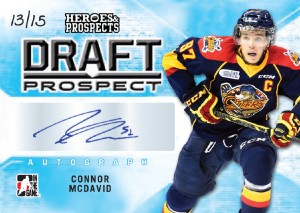 In terms of signed cards, Heroes & Prospects lives up to its name. There will be plenty of Prospect Autographs of CHL players and Hero Autographs for the retired stars. There will also be parallel versions for each plus a one-of-one edition that will be highly coveted in many cases. Draft Prospect Autographs are all about the youngsters eligible for the 2015 NHL Entry Draft and fittingly, they are limited to 15 copies.
Many of the traditional Heroes & Prospects memorabilia hits will return for this release, including Game-Used Jersey and Game-Used Patch. There will also be plenty of similar hits with jerseys worn in annual CHL events such as the Subway Super Series and the CHL/NHL Top Prospects Game. Autographed versions for these sets will be available as well. Hero & Prospect Jersey cards are back again, too, but a Patch parallel has been added for 2014-15.
As expected, the CHL Complete Logo cards will be back once again and there will also be Nameplates, which have been a Heroes & Prospects staple in recent years. These one-of-one hits have a strong following and they will be joined by the always-limited Complete Jerseys.
There are also a couple of new additions to the brand which could generate interest. Prospect Six Swatch and Heroes Six Swatch sets teased in the company's sales sheet along with All-Star Heroes that will house jersey pieces that were worn in an NHL All-Star Game.
Fans of In The Game's tradition Between The Pipes release may be already aware that it is not returning as a stand-alone set in 2014-15, but they need not fret as it will be included here as special memorabilia cards. Among the sets teased by Leaf include Pad Men, Glove Men and Vezina Winner.
Stephen Laroche is the editor of Beckett Hockey and Beckett Basketball magazines. Have a comment, question or idea? Send an e-mail to him at SLaroche@beckett.com. Follow him on Twitter @Stephen_Laroche.