2014-15 Fleer Showcase Hockey Details
2014-15 Fleer Showcase Hockey brings a few old friends along in an attempt to make an impact with collectors.
With more of us looking back fondly at products that were big in the mid-to-late 1990s, the March release of 2014-15 Fleer Showcase Hockey will be an interesting one as it will also contain some familiar Fleer names from that era in Flair, Metal Universe and SkyBox Premium that will be attached to supplemental sets that can be put together by busting packs.
There will also be plenty of modern twists as well and this may be the year that hockey hobbyists finally embrace the brand, which intends to deliver a hit in every pack.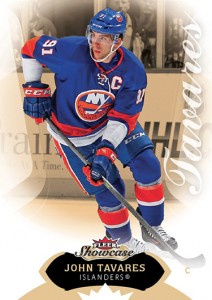 At its basic level, Fleer Showcase will have a small 100-card base set that is augmented by a large Hot Propsects Autograph Patch subset where each card is limited to 175 or 375 copies. There will also be some Hot Prospects Autos (#'d to 149) for some players that Upper Deck does not have memorabilia for in addition to a carryover from last year in the Hot Prospects Duos (#'d to 299) and Trios (#'d to 399).
Each of the subset cards will have both a Red Glow and White Hot parallel, with the latter being the most challenging to pull. In the case of the Hot Prospects Auto Patches, the piece will be replaced with either a piece of glove or fight strap for the Red Glow version (limited to between 18 and 27 copies based on tier) while the White Hot cards feature a larger patch piece and are numbered to only three. For the other subsets, Red Glow cards (#'d to 27) and White Hot (#'d to 9) will exist as well. Some of the base set cards will have a Red Glow jersey parallel (#'d to 36) and a tiered White Hot edition limited to just 9 or 18 copies.
Leading up the retro Fleer content in packs will be related to the Flair brand and it will bring collectors a tiered (Row 2 are 1:9, Row 1 are 1:25) 70-card set that includes 20 Row 0 Rookie cards (1:25). Much like the earlier releases, there will be a Blue Ice parallel numbered to 250 along with a super-tough one-of-one Blue Masterpiece version, Row 1 and Row 2 Jersey and Patch parallels and Row 0 Rookie Jersey (1:50) or Row 0 Rookie Patch (limited to 49).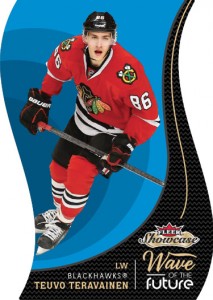 The most compelling aspect of the retro revival for some, though, is the presence of two truly tough to pull die-cut non-memorabilia insert sets. Hot Gloves (1:540) and Wave of the Future (1:270) were popular during the 1990s and they combine to fall once per case.
Metal Universe cards are a relatively easy pull at 1:3 packs and half of the 42-card set consists of rookies. There are three parallel versions which will utilize the Precious Metal Gems technology and player collectors are sure to make an effort to find the Red (#'d 100), Blue (#'d to 25) and Green (#'d to 10) editions. Returning for another year are SkyBox Premium cards and its veteran base cards are numbered to 499 and rookies are to 299. The SkyBox parallels are tough, too, with Star Rubies (#'d to 50) and Sparkling Diamond (#'d to 5) that may get some collector attention.
A typical box break of 2014-15 Fleer Showcase Hockey should yield one Hot Prospects Rookie Auto Patch along with two additional autograph or memorabilia cards. Some of those hits may include an an additional Hot Prospects or Flair Rookie Auto Patch. There will also be four serial numbered cards limited to 499 copies or less which includes cards from the Flair Blue Ice and Metal Universe Precious Metal Gems collections. Upper Deck has also noted that there will be five Metal Universe and three Flair cards per box.
Case breakers can expect to find some big hits as well since the average break will include one or more from each of the following collections: Hot Prospect Rookie Auto Patch SPs, Red Glow or White Hot parallels and a Patch card that will numbered to 18 copies or less. Fans of limited parallels will also be treated to four Precious Metal Gems and two SkyBox Premium Star Rubies or Sparkling Diamonds plus one card from either of the previously mentioned die-cut non-memorabilia inserts.