First look: 2013 Upper Deck Football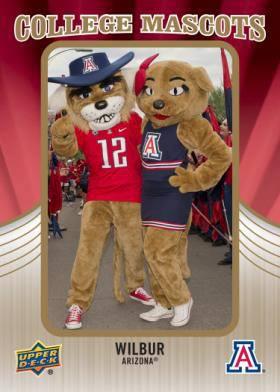 By Susan Lulgjuraj | Beckett Football Editor
One of the most popular aspects of 2012 Upper Deck Football was the College Mascot Patch cards. Collectors love to show their school pride.
Upper Deck is bringing these back for 2013 with an additional 60 cards in the set. These cards are tough to get, but that didn't stop collectors from chasing them. In 2013, they will fall at an average rate of one in every 40 packs.
The next edition of Upper Deck Football releases in April with 50 regular cards and 200 Star Rookies in their college uniforms. Collectors can expect to find six cards per pack with 20 packs in each box.
On average, there should be three autographs in every hobby box from an assortment of subsets:
– Rookie Letterman Signatures
– Ultimate Collection Rookie Signature
– Star Rookie Autographs
– 1995 SP Football autographs
– 1995 SP Prospects Autographs
Upper Deck is including a special insert in hobby boxes only. Look for Joe Namath and Barry Sanders College Football Heroes inserts. There are 10 cards of each player.
The photo gallery is limited because many of the best players leaving this year still have a game left and cannot be pictured on cards yet because of NCAA rules.
Look for more information as it becomes available.
Susan Lulgjuraj is an editor of Beckett Football. You can email her here with questions, comments or ideas. Follow her on Twitter here.