First look: 2013 UFC Bloodlines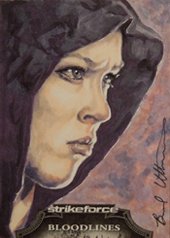 By Susan Lulgjuraj | Beckett Sports Card Monthly Editor
Topps is celebrating UFC's diversity.
The most famous MMA league brings fighters from around the world to compete in some of the most grueling matches. Topps is bringing back 2103 UFC Bloodlines, highlighting the nationality of these fighters.
There will be 10 mini boxes in one display box of UFC Bloodlines. Each mini box will contain two base cards, one parallel, one insert and one hit. Every display box will offer two relics, two jumbo or dual relics, one manufactured relic, two autographs and two autograph relics. In addition, sketch cards will be offered as hits.
Relic cards will feature fighter-worn shirts or shorts. Also, collectors can find jumbo or dual relic cards that contain Mat Relics.
The Commemorative Relics will use coins created exclusively for 2013 UFC Bloodlines celebrating up to 25 fighters' heritages.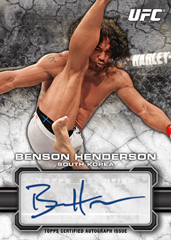 The autographs will feature more than 30 fighters and any new signers will get a "First Issue" designation. Topps will use four subsets within the autographs along with base signatures, including Global Championship Conflict Dual Autographs that pairs fighters of different national origins who fought for a UFC Championship. Topps will also include booklet autographs and multi-signature.
Autograph Relic Cards are also back. These cards will feature autographs with authentic-worn items.
The base cards will include 150 MMA fighters, including up-and-coming athletes. There will be one parallel in every pack: Flag (numbered to 188), Black (numbered to 88), Ruby Red (numbered to 8) or Platinum (1-of-1).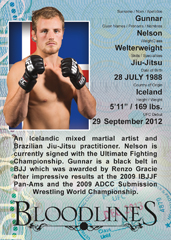 Inserts will fall at a rate of one per box as well. The inserts will include Bloodlines, a 15-card set highlighting a UFC fighter and their nationality; and UFC Octagon-side, 25 UFC stars on a retro design. These cards will feature three parallels of Black, Ruby Red and Platinum.
Collectors can also get redemptions for uncut sheets of base cards and flag parallels.
UFC Bloodlines is scheduled to come out in early December.
Susan Lulgjuraj is an editor of Beckett Sports Card Monthly. You can email her here with questions, comments or ideas. Follow her on Twitter here. Follow Beckett Media on Facebook and Twitter.
---
Preliminary checklist
Base set
1 Cain Velasquez Heavyweight
2 Tarec Saffiedine Welterweight
3 Chan Sung Jung Featherweight
4 Jussier Formiga Flyweight
5 Lyoto Machida Light Heavyweight
6 Vitor Belfort Middleweight
7 Dan Hardy Welterweight
8 Ryan Couture Lightweight
9 Max Holloway Featherweight
10 Siyar Bahadurzada Welterweight
11 Alexis Davis Women's Bantamweight
12 Mike Pierce Welterweight
13 Urijah Faber Bantamweight
14 Nick Ring Middleweight
15 Wanderlei Silva Middleweight
16 Gunnar Nelson Welterweight
17 Cub Swanson Featherweight
18 Johnny Hendricks Welterweight
19 Brian Caraway Bantamweight
20 Rich Franklin Middleweight
21 Ricardo Lamas Featherweight
22 Rustam Khabilov Lightweight
23 Chris Weidman Middleweight
24 Frankie Edgar Featherweight
25 Jose Aldo Featherweight
26 Denis Siver Featherweight
27 Brad Tavares Middleweight
28 Eddie Yagin Featherweight
29 Clay Guida Featherweight
30 Cyrille Diabate Light Heavyweight
31 Raphael Assunçao Bantamweight
32 Nate Diaz Middleweight
33 Brad Pickett Bantamweight
34 Antonio Silva Heavyweight
35 Michael McDonald Bantamweight
36 Renan Barao Bantamweight
37 Ross Pearson Lightweight
38 Chad Mendes Featherweight
39 Pat Barry Heavyweight
40 Carlos Condit Welterweight
41 Fabricio Werdum Heavyweight
42 Khabib Nurmagomedov Lightweight
43 Cat Zingano Women's Bantamweight
44 Rafael dos Anjos Lightweight
45 Hector Lombard Middleweight
46 Mike Rio Lightweight
47 Eddie Wineland Bantamweight
48 TJ Grant Lightweight
49 Akira Corassani Featherweight
50 Mike Pyle Welterweight
51 Erick Silva Welterweight
52 Dominick Cruz Bantamweight
53 Takanori Gomi Lightweight
54 Francis Carmont Middleweight
55 Gray Maynard Lightweight
56 Costa Philippou Middleweight
57 Brian Stann Middleweight
58 Patrick Cote Welterweight
59 Gian Villante Light Heavyweight
Base60 Josh Barnett Heavyweight
61 Bobby Green Lightweight
62 Joe Lauzon Lightweight
63 Vinny Magalhaes Light Heavyweight
64 Jacare Souza Middleweight
65 Roy Nelson Heavyweight
66 Mike Ricci Lightweight
67 Ovince St. Preux Light Heavyweight
68 Josh Koscheck Welterweight
69 Daron Cruickshank Lightweight
70 Minotauro Nogueira Heavyweight
71 Dan Miller Welterweight
72 Ryan Bader Light Heavyweight
73 Rashad Evans Light Heavyweight
74 Tim Kennedy Middleweight
75 Donald Cerrone Lightweight
76 Myles Jury Lightweight
77 Joseph Benavidez Flyweight
78 Marcus Brimage Featherweight
79 Stanislav Nedkov Middleweight
80 Martin Kampmann Welterweight
81 Jon Jones Light Heavyweight
82 Anthony Pettis Featherweight
83 Benson Henderson Lightweight
84 Junior dos Santos Heavyweight
85 John Hathaway Welterweight
86 Alexander Gustafsson Light Heavyweight
87 Dong Hyun Kim Welterweight
88 Dan Henderson Light Heavyweight
89 Tim Boetsch Middleweight
90 Anderson Silva Middleweight
91 Yves Jabouin Bantamweight
92 Jim Miller Lightweight
93 Ryan Jimmo Light Heavyweight
94 Jimi Manuwa Light Heavyweight
95 Adlan Amagov Middleweight
96 Pat Healy Lightweight
97 John Makdessi Lightweight
98 Jake Ellenberger Welterweight
99 Daniel Cormier Heavyweight
100 George St-Pierre Welterweight
101 Ilir Latfi Light Heavyweight
102 Michael Kuiper Middleweight
103 Chris Spang Middleweight
104 Ronda Rousey Women's Bantamweight
105 Yushin Okami Middleweight
106 Sara McMann Women's Bantamweight
107 Tom Watson Middleweight
108 John Tuck Lightweight
109 Phil Davis Light Heavyweight
110 Tyron Woodley Welterweight
111 Andy Ogle Featherweight
112 Michael Bisping Middleweight
113 Dustin Poirier Featherweight
114 Ian McCall Flyweight
115 Stefan Struve Heavyweight
116 Cung Le Middleweight
117 Darren Elkins Featherweight
118 Nick Diaz Welterweight
119 Scott Jorgensen Bantamweight120 Alistair Overeem Heavyweight
121 James Te Huna Light Heavyweight
122 Pascal Krauss Welterweight
123 Frank Mir Heavyweight
124 Sam Stout Lightweight
125 Norman Parke Lightweight
126 John Moraga Flyweight
127 Shogun Rua Light Heavyweight
128 Chael Sonnen Light Heavyweight
129 Sarah Kaufman Women's Bantamweight
130 Nate Marquardt Welterweight
131 Gegard Mousasi Light Heavyweight
132 Erik Perez Bantamweight
133 Mark Hunt Heavyweight
134 Yoshihiro Akiyama Welterweight
135 Demetrious Johnson Flyweight
136 Gilbert Melendez Lightweight
137 Demian Maia Welterweight
138 Mark Munoz Middleweight
139 Conor McGregor Featherweight
140 Minotauro Nogueira Light Heavyweight
141 Jake Shields Lightweight
142 Rory MacDonald Welterweight
143 Miesha Tate Women's Bantamweight
144 Michael Chiesa Lightweight
145 Diego Sanchez Lightweight
146 Brendan Schaub Heavyweight
147 John Dodson Flyweight
148 Roger Gracie Middleweight
149 Glover Teixiera Light Heavyweight
150 Luke Rockhold Middleweight
Bloodlines
BL-1 Gegard Mousasi Light Heavyweight Armenia
BL-2 Tarec Saffiedine Welterweight Belgium
BL-3 Glover Teixeira Light Heavyweight Brazil
BL-4 Shogun Rua Light Heavyweight Brazil
BL-5 Costa Philippou Middleweight Cyprus
BL-6 Gunnar Nelson Welterweight Iceland
BL-7 Erik Perez Bantamweight Mexico
BL-8 Jimi Manuwa Light Heavyweight United Kingdom
BL-9 Ronda Rousey Women's Bantamweight United States
BL-10 Chris Weidman Middleweight United States
BL-11 Daniel Cormier Heavyweight United States
BL-12 Conor McGregor Featherweight Ireland
BL-13 Ovince St. Preux Light Heavyweight Haiti
BL-14 Khabib Nurmagomedov Lightweight Russian
BL-15 Sara McMann Women's Bantamweight United States
Topps Octagon Side
TC-1 John Dodson Flyweight
TC-2 Jon Jones Light Heavyweight
TC-3 Ronda Rousey Women's Bantamweight
TC-4 Urijah Faber Featherweight
TC-5 Shogun Rua Light Heavyweight
TC-6 Alexander Gustafsson Light Heavyweight
TC-7 Rashad Evans Light Heavyweight
TC-8 Georges St-Pierre Welterweight
TC-9 Anderson Silva Middleweight
TC-10 Jose Aldo Featherweight
TC-11 Benson Henderson Lightweight
TC-12 Frankie Edgar Lightweight
TC-13 Clay Guida Featherweight
TC-14 Chris Weidman Middleweight
TC-15 Nate Marquardt Welterweight
TC-16 Carlos Condit Welterweight
TC-17 Hector Lombard Middleweight
TC-18 Demetrious Johnson Flyweight
TC-19 Cain Velasquez Heavyweight
TC-20 Renan Barao Bantamweight
TC-21 Dominick Cruz Bantamweight
TC-22 Johny Hendricks Welterweight
TC-23 Lyoto Machida Light Heavyweight
TC-24 Gilbert Melendez Lightweight
TC-25 Glover Teixeira Light Heavyweight
Relics
Alexander Gustafsson Francis Carmont Miesha Tate
Alistair Overeem Frankie Edgar Minotauro Nogueira
Anderson Silva Gegard Mousasi Nate Diaz
Anthony Pettis Georges St-Pierre Nick Diaz
Benson Henderson Gilbert Melendez Rashad Evans
BJ Penn Glover Teixeira Renan Barao
Cain Velasquez Hector Lombard Ronda Rousey
Carlos Condit Ian McCall Rory MacDonald
Cat Zingano James Te Huna Ross Pearson
Chael Sonnen Jimi Manuwa Sara McMann
Chan Sung Jung Johny Hendricks Shogun Rua
Chris Weidman Jon Jones Tarec Saffiedine
Chuck Liddell Junior dos Santos Travis Brown
Conor MacGregor Liz Carmouche Urijah Faber
Daniel Cormier Luke Rockhold Vitor Belfort
Diego Sanchez Lyoto Machida Wanderlei Silva
Dominick Cruz Mark Hunt Yoshihiro Akiyama
Fabricio Werdum Michael Bisping Yushin Okami
Autographs
Anderson Silva Dominick Cruz Junior dos Santos
Anthony Njokuaki Frankie Edgar Liz Carmouche
Anthony Pettis Gegard Mousasi Luke Rockhold
Benson Henderson Georges St-Pierre Lyoto Machida
Cain Velasquez Gilbert Melendez Miesha Tate
Carlos Condit Glover Teixeira Rashad Evans
Cat Zingano Gray Maynard Renan Barao
Chael Sonnen Hector Lombard Ronda Rousey
Chris Weidman John Dodson Rory MacDonald
Chuck Liddell John Makdessi Sara McMann
Costa Philippou Jon Jones Shogun Rua
Daniel Cormier Jose Aldo Urijah Faber
Demetrious Johnson Joseph Benavidez Wanderlei Silva
**Checklist Subject To Change