First look: 2013 Topps Update baseball cards (with preliminary checklist)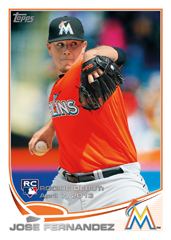 By Chris Olds | Beckett Baseball Editor
Although 2013 Topps Series 2 is coming soon, it's time for an update.
A Topps Update, that is.
Topps previewed its flagship-capping third standard release of the year on Wednesday, and it's 2013 Topps Update that will arrive on Oct. 14 packing the final chances at The Chase for the season.
With one autograph or Relic in every 24-pack Hobby box or one auto and two Relics in every HTA Jumbo box, Update will cap the season's offerings and offer some new additions not seen in the first two series.  The 330-card base set will highlight veteran additions and rookie call-ups as is tradition along with a look at the stars of the Midsummer Classic and the MLB Home Run Derby, too.
Each card will have seven parallels as well as printing plates — Gold, Black, Pink, Platinum, Emerald, and Desert Camo are back, while cards from all three series will have their Sapphire parallels in this one with each limited to just 25. A total of 100 cards from the set will have silk minis limited to 100 copies.
Manufactured Relics are back with one per Jumbo box or one per case. This time, they consist of League LEader Pins, Record-holder Rings and Pennant Chase cooper coin cards. The coins will have iron and steel parallels limited to 50 and 10, while the standard versions will be limited to just 99.
Inserts in this one will include a batch of 1971 Topps minis, a Chasing History set, Making Their Mark, Postseason Heroes and Franchise Forerunners, which will combine rookies with stars from the past.
Autograph offerings will include 1971 minis, Chasing History (standard with Gold parallels), Chasing History cuts, Making Their Mark (standard and Gold), Postseason Heroes and Franchise Forerunners. Auto Relics will include Chasing History, Postseason Heroes and the Forerunners, too. They will be limited to 10 or fewer copies and be limited to Hobby and Jumbo packs only.
Also back for another year are All-Star Game Relics with more than 60 players featured on All-Star Stitches cards. These will have Gold parallels limited to 50 and 1/1 Platinums. Autographed Relics will be limited to just 25 copies, while Jumbo Patches, Jumbo Patch autos, duals and triples also will be found. Each of those will be limited to no more than 25 copies.
Also back for one last go will be the Ultimate Chase with 10 more 1/1 cards bringing a distinctly deluxe feel to the low-end brand.
Chris Olds is the editor of Beckett Baseball magazine. Have a comment, question or idea? Send an email to him at colds@beckett.com. Follow him on Twitter by clicking here.
RAW PRELIMINARY (SUBJECT TO CHANGE) CHECKLIST AS PROVIDED BY TOPPS
Standard cards
Matt Adams
St. Louis Cardinals®
Francisco Liriano
Pittsburgh Pirates®
Al Alburquerque
Detroit Tigers®
Kyle Lohse
Milwaukee Brewers™
Nolan Arenado
Colorado Rockies™
Jed Lowrie
Oakland Athletics™
Dylan Axelrod
Chicago White Sox®
Shaun Marcum
New York Mets®
Andrew Bailey
Boston Red Sox®
Russell Martin
Pittsburgh Pirates®
Daniel Bard
Boston Red Sox®
Carlos Martinez
St. Louis Cardinals®
Trevor Bauer
Cleveland Indians®
Kendrys Morales
Seattle Mariners™
Jason Bay
Seattle Mariners™
Brandon Morrow
Toronto Blue Jays®
Erik Bedard
Houston Astros®
Michael Morse
Seattle Mariners™
Quintin Berry
Detroit Tigers®
Charlie Morton
Pittsburgh Pirates®
Joe Blanton
Angels®
Laynce Nix
Philadelphia Phillies®
Willie Bloomquist
Arizona Diamondbacks®
Miguel Olivo
Miami Marlins™
Mitchell Boggs
St. Louis Cardinals®
Marcell Ozuna
Miami Marlins™
Zach Britton
Baltimore Orioles®
Cliff Pennington
Arizona Diamondbacks®
Chris Carter
Houston Astros®
A.J. Pierzynski
Texas Rangers®
Joba Chamberlain
New York Yankees®
Nick Punto
Los Angeles Dodgers®
Endy Chavez
Seattle Mariners™
Ryan Raburn
Cleveland Indians®
Eric Chavez
Arizona Diamondbacks®
Jon Rauch
Miami Marlins™
Shin-Soo Choo
Cincinnati Reds®
Anthony Rendon
Washington Nationals®
Kevin Correia
Minnesota Twins®
Mark Reynolds
Cleveland Indians®
Wade Davis
Kansas City Royals®
Ryan Roberts
Tampa Bay Rays™
Stephen Drew
Boston Red Sox®
Bruce Rondon
Detroit Tigers®
Danny Duffy
Kansas City Royals®
James Russell
Chicago Cubs®
Scott Feldman
Chicago Cubs®
Alex Sanabia
Miami Marlins™
Mat Gamel
Milwaukee Brewers™
Jonathan Sanchez
Pittsburgh Pirates®
Jason Giambi
Cleveland Indians®
Skip Schumaker
Los Angeles Dodgers®
Didi Gregorius
Arizona Diamondbacks®
James Shields
Kansas City Royals®
Travis Hafner
New York Yankees®
Kelly Shoppach
Seattle Mariners™
Scott Hairston
Chicago Cubs®
Rafael Soriano
Washington Nationals®
Aaron Harang
Seattle Mariners™
Denard Span
Washington Nationals®
Dan Haren
Washington Nationals®
Drew Stubbs
Cleveland Indians®
Adeiny Hechavarria
Miami Marlins™
Miguel Tejada
Kansas City Royals®
Jim Henderson
Milwaukee Brewers™
Chris Tillman
Baltimore Orioles®
Kelvin Herrera
Kansas City Royals®
Justin Upton
Atlanta Braves™
Greg Holland
Kansas City Royals®
Jason Vargas
Angels®
Brandon Inge
Pittsburgh Pirates®
Jose Veras
Houston Astros®
Maicer Izturis
Toronto Blue Jays®
Vernon Wells
New York Yankees®
Edwin Jackson
Chicago Cubs®
Ty Wigginton
St. Louis Cardinals®
Chris Johnson
Atlanta Braves™
Dewayne Wise
Chicago White Sox®
Ryan Kalish
Boston Red Sox®
Vance Worley
Minnesota Twins®
Scott Kazmir
Cleveland Indians®
Kevin Youkilis
New York Yankees®
Don Kelly
Detroit Tigers®
Delmon Young
Philadelphia Phillies®
Jeff Keppinger
Chicago White Sox®
Michael Young
Philadelphia Phillies®
ALL STAR STITCHES
60 Subjects, TBD
ALL STAR JUMBO PATCHES
10 Subjects, TBD
CHASING HISTORY INSERT
50 Subjects, TBD
ALL STAR STITCHES AUTOGRAPHED RELICS
15 Subjects, TBD
1971 TOPPS MINIS INSERT
50 Subjects, TBD
POSTSEASON HEROES INSERT
20 Subjects, TBD
FRANCHISE FORERUNNERS INSERT
20 Subjects, TBD
LEAGUE LEADER PINS MANUFACTURED RELICS
20 Subjects, TBD
PENNANT CHASE MANUFACTURED RELICS
15 Subjects, TBD
RECORD-HOLDER RINGS MANUFACTURED RELICS
10 Subjects, TBD
AUTOGRAPHS — OR RELICS — OR AUTO RELICS
Craig Biggio
Houston Astros®
Mike Mussina
New York Yankees®
Ryan Braun
Milwaukee Brewers™
Mike Napoli
Boston Red Sox®
Jay Bruce
Cincinnati Reds®
Ivan Nova
New York Yankees®
Dylan Bundy
Baltimore Orioles®
Jake Odorizzi
Tampa Bay Rays™
Miguel Cabrera
Detroit Tigers®
Buster Posey
San Francisco Giants®
Edwin Encarnacion
Toronto Blue Jays®
Jurickson Profar
Texas Rangers®
Prince Fielder
Detroit Tigers®
Phil Rizzuto
New York Yankees®
David Freese
St. Louis Cardinals®
Gary Sheffield
Florida Marlins™
Nomar Garciaparra
Boston Red Sox®
Duke Snider
Los Angeles Dodgers®
Craig Gentry
Texas Rangers®
Warren Spahn
St. Louis Cardinals®
Tom Glavine
Atlanta Braves™
Willie Stargell
Pittsburgh Pirates®
Reggie Jackson
New York Yankees®
Justin Upton
Atlanta Braves™
Bo Jackson
Kansas City Royals®
Ted Williams
Boston Red Sox®
Ralph Kiner
Pittsburgh Pirates®
C.J. Wilson
Angels®
Manny Machado
Baltimore Orioles®
David Wright
New York Mets®
Shelby Miller
St. Louis Cardinals®