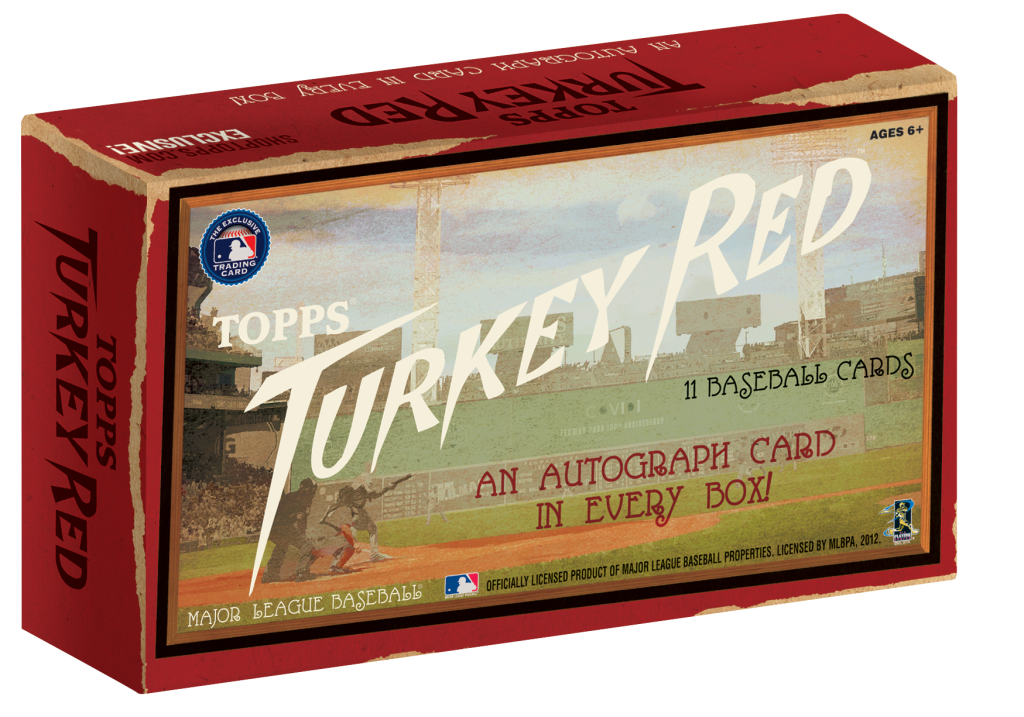 By Chris Olds | Beckett Baseball Editor
Turkey Red is coming … and it arrives in a week.
As previously reported, Topps is releasing an edition of Turkey Red baseball cards this year exclusively as a ShopTopps.com item and it's set to arrive in just one week, on Feb. 18.
Each 11-card $20 box will include one autograph and a selection of 10 cards from a 100-card base set in the familiar look of the past cards. There will be 43 signers for the product and Black parallels of autos limited to 10 as well as 1/1 Red parallels. Also to be found are printing plates. Pre-orders begin tomorrow and the product will ship next week. There is a limit of 25 boxes per household.
Among the signers, according to Topps, will be Mike Trout, Yoenis Cespedes, Yu Darvish and Will Middlebrooks to name a few players.
Chris Olds is the editor of Beckett Baseball magazine. Have a comment, question or idea? Send an email to him at colds@beckett.com. Follow him on Twitter by clicking here.
HERE IS A PRELIMINARY CHECKLIST AS RELEASED BY TOPPS.
BASE SET
1    R.A. Dickey
2    Derek Jeter
3    Mike Trout
4    Jose Altuve
5    David Wright
6    Manny Machado
7    Albert Pujols
8    Bryce Harper
9    Felix Hernandez
10    Adam Jones
11    Clayton Kershaw
12    Justin Morneau
13    Roy Halladay
14    Jimmy Rollins
15    Curtis Granderson
16    Andre Ethier
17    Jose Reyes
18    Matt Kemp
19    Yovani Gallardo
20    Fernando Rodney
21    Jonathan Papelbon
22    Robinson Cano
23    Ryan Braun
24    Joe Mauer
25    Gio Gonzalez
26    Pablo Sandoval
27    Yonder Alonso
28    Ryan Zimmerman
29    Yadier Molina
30    David Price
31    Adam Wainwright
32    Prince Fielder
33    Edwin Encarnacion
34    Yasmani Grandal
35    Chase Utley
36    Jose Bautista
37    Jake Peavy
38    Carlos Santana
39    Brian McCann
40    Starlin Castro
41    Brandon Phillips
42    Aroldis Chapman
43    Justin Upton
44    Joey Votto
45    Jon Lester
46    Wade Miley
47    Mark Trumbo
48    Adrian Beltre
49    Eric Hosmer
50    Andrew McCutchen
51    C.J. Wilson
52    Dustin Pedroia
53    Asdrubal Cabrera
54    Tim Lincecum
55    Tim Hudson
56    Freddie Freeman
57    Paul Konerko
58    CC Sabathia
59    Josh Hamilton
60    Buster Posey
61    Matt Cain
62    Ian Kinsler
63    Matt Holliday
64    Jesus Montero
65    Carlos Gonzalez
66    Austin Jackson
67    Mat Latos
68    Adam Dunn
69    Josh Reddick
70    Yoenis Cespedes
71    Hunter Pence
72    Cole Hamels
73    Yu Darvish
74    Johnny Cueto
75    Miguel Cabrera
76    Jean Segura
77    Anthony Rizzo
78    Tyler Skaggs
79    Ian Kennedy
80    Jered Weaver
81    Zack Greinke
82    Chris Sale
83    Craig Kimbrel
84    Jason Heyward
85    Evan Longoria
86    Ryan Howard
87    Giancarlo Stanton
88    Adrian Gonzalez
89    Cliff Lee
90    Carlos Beltran
91    Josh Beckett
92    Justin Verlander
93    Billy Butler
94    Colby Rasmus
95    Brett Wallace
96    Starling Marte
97    Troy Tulowitzki
98    Hanley Ramirez
99    James Shields
100    Stephen Strasburg
AUTOGRAPH CARDS    
TRA-AA    Alexi Amarista
TRA-AC    Andrew Carignan
TRA-AE    Alcides Escobar
TRA-AG    Anthony Gose
TRA-AGO    Alex Gordon
TRA-AJ    Adam Jones
TRA-BM    Brian McCann
TRA-BP    Brad Peacock
TRA-BU    B.J. Upton
TRA-CA    Chris Archer
TRA-CP    Carlos Pena
TRA-DH    Drew Hutchison
TRA-DN    Derek Norris
TRA-DS    Drew Storen
TRA-ES    Eduardo Sanchez
TRA-FH    Felix Hernandez
TRA-JA    J.P. Arencibia
TRA-JB    Jose Bautista
TRA-JN    Jeff Niemann
TRA-JOV    Josh Vitters
TRA-JP    Jarrod Parker
TRA-JS    Joe Saunders
TRA-JSA    Jerry Sands
TRA-JSE    Jean Segura
TRA-JV    Jordany Valdespin
TRA-KS    Kyle Seager
TRA-MCA    Miguel Cabrera
TRA-MF    Mike Fiers
TRA-MO    Mike Olt
TRA-MP    Michael Pineda
TRA-MT    Mark Trumbo
TRA-MTR    Mike Trout
TRA-RW    Rickie Weeks
TRA-SC    Steve Cishek
TRA-SD    Scott Diamond
TRA-SV    Shane Victorino
TRA-TB    Trevor Bauer
TRA-TC    Tyler Colvin
TRA-TS    Tyler Skaggs
TRA-WIM    Will Middlebrooks
TRA-WP    Wily Peralta
TRA-YCE    Yoenis Cespedes
TRA-YDA    Yu Darvish