First Look: 2013 Topps Tribute World Baseball Classic Edition (with checklist)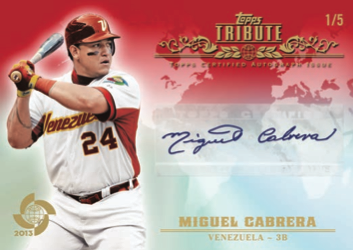 By Chris Olds | Beckett Baseball Editor
The World Baseball Classic came and went and there's one big development.
Its baseball cards are going high-end.
Topps unveiled on Thursday its plans for 2013 Topps Tribute World Baseball Classic Edition, a hit-per-pack product showing stars from this year's event, which was won by the Dominican Republic team led by MVP Robinson Cano.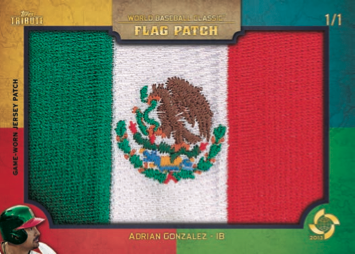 Each six-pack box will include four autograph cards along with two patch cards when it arrives on June 26. The base set will consist of 100 cards, each with Gold, Red and 1/1 Purple parallels.
The autographs will be found in standard form along with Blue (/50), Sepia (/35), Orange (/25), Gold (/15), Red (/5) and 1/2 Purple and Onyx parallels.
In addition, there will be World Baseball Classic Heroes Autographs — stars from the first two events — along with Tribute to International Legends cards, which will note top players from other countries. These cards will be limited to 15.
The patch cards will be a mix of Relics from WBC uniforms. There will be standard cards, along with Blue, Green, Orange, Gold, Red, Black and Purple. In addition, there will be redemption cards for full gamers from the 2009 event. There also will be 1/1 flag and logo patches, too.
Chris Olds is the editor of Beckett Baseball magazine. Have a comment, question or idea? Send an email to him at colds@beckett.com. Follow him on Twitter by clicking here. Follow Beckett Media on Facebook.
RAW PRELIMINARY CHECKLIST AS ISSUED BY TOPPS (SUBJECT TO CHANGE)

Base set
Derek Holland
United States
Jose Abreu
Cuba
Marco Scutaro
Venezuela
Jose Berrios
Puerto Rico
Masahiro Tanaka
Japan
David Wright
United States
Sergio Romo
Mexico
Anibal Sanchez
Venezuela
Kenji Otonari
Japan
Phillippe Aumont
Canada
Alex Rios
Puerto Rico
Joey Votto
Canada
Hayato Sakamoto
Japan
Jonathan Schoop
Netherlands
Andrelton Simmons
Netherlands
Robinson Cano
Dominican Republic
Carlos Gonzalez
Venezuela
Anthony Rizzo
Italy
R.A. Dickey
United States
Wandy Rodriguez
Dominican Republic
Freddy Alvarez
Cuba
Nelson Cruz
Dominican Republic
Andruw Jones
Netherlands
Tadashi Settsu
Japan
Takeru Imamura
Japan
Brandon Phillips
United States
Jonathan Lucroy
United States
Yuichi Honda
Japan
Yovani Gallardo
Mexico
Odrisamer Despaigne
Cuba
Gio Gonzalez
United States
Toshiya Sugiuchi
Japan
Jhoulys Chacin
Venezuela
Ben Zobrist
United States
Che-Hsuan Lin
Chinese Taipei
Jae Weong Seo
Korea
Miguel Montero
Venezuela
Jonatan Isenia Netherlands
Craig Kimbrel United States
Edinson Volquez Dominican Republic
Yadier Molina Puerto Rico
Yao-Hsun Yang Chinese Taipei
Miguel Cabrera Venezuela
Carlos Beltran Puerto Rico
Xander Bogaerts Netherlands
Kazuo Matsui Japan
Ross Detwiler United States
Hideaki Wakui Japan
Adrian Gonzalez Mexico
Chien-Ming Wang Chinese Taipei
Henderson Alvarez Venezuela
Shinnosuke Abe Japan
Joe Mauer United States
Edwin Encarnacion Dominican Republic
Giancarlo Stanton United States
Jose Reyes Dominican Republic
Elvis Andrus Venezuela
Salvador Perez Venezuela
Miguel Tejada Dominican Republic
Erick Aybar Dominican Republic
Heath Bell United States
Ryan Vogelsong United States
Shane Victorino United States
Adam Jones United States
Marco Estrada Mexico
Atsunori Inaba Japan
Martin Prado Venezuela
Tetsuya Utsumi Japan
Eddie Rosario Puerto Rico
Jameson Taillon Canada
J.P. Arencibia United States
Pablo Sandoval Venezuela
Andre Rienzo Brazil
Jen-Ho Tseng Chinese Taipei
Fernando Rodney Dominican Republic
Hanley Ramirez Dominican Republic
Dae Ho Lee Korea
Angel Pagan Puerto Rico
Atsushi Nomi
Japan
Carlos Santana
Dominican Republic
Suk-Min Yoon
Korea
Justin Morneau
Canada
Jimmy Rollins
United States
Ryan Braun
United States
Carlos Zambrano
Venezuela
Asdrubal Cabrera
Venezuela
Kenta Maeda
Japan
John Axford
Canada
Dai-Kang Yang
Chinese Taipei
Erisbel Arruebarruena
Cuba
Yulieski Gourriel
Cuba
Yadier Pedroso
Cuba
Nobuhiro Matsuda
Japan
Steve Cishek
United States
Alfredo Despaigne
Cuba
Jose Fernandez
Cuba
Eric Hosmer
United States
Mike Aviles
Puerto Rico
Jurickson Profar
Netherlands
Kelvin Herrera
Dominican Republic
AUTOGRAPHS
WBC Autograph Cards
At least 50 different subjects including the following
Miguel Cabrera
Jameson Taillon
Jonathan Schoop
Adam Jones
David Wright
R.A. Dickey
Tribute to WBC Heroes
Up to seven different subject including the following:
Yoenis Cespedes
Akinori Iwamura
Yu Darvish
Tribute to International Legends
Up to ten different subject including the following:
Juan Marichal
Cal Ripken Jr.
Nolan Ryan
Don Mattingly
RELICS
Prime Patches, WBC Logo Patches and Coutnry Flag Patches
Featuring at least 65 different subjects including the following:
Adam Jones
United States
Ben Zobrist
United States
Craig Kimbrel
United States
David Wright
United States
Eric Hosmer
United States
Giancarlo Stanton
United States
J.P. Arencibia
United States
Jimmy Rollins
United States
Joe Mauer
United States
Jonathan Lucroy
United States
R.A. Dickey
United States
Ross Detwiler
United States
Ryan Braun
United States
Shane Victorino
United States
Anthony Rizzo
Italy
Anibal Sanchez
Venezuela
Asdrubal Cabrera
Venezuela
Carlos Gonzalez
Venezuela
Elvis Andrus
Venezuela
Marco Scutaro
Venezuela
Miguel Cabrera
Venezuela
Miguel Montero
Venezuela
Salvador Perez
Venezuela
Joey Votto
Canada
Phillippe Aumont
Canada
Jameson Taillon
Canada