First look: 2013 Topps Tribute baseball cards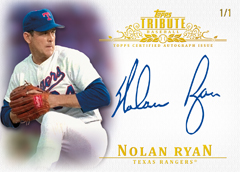 By Chris Olds | Beckett Baseball Editor
Topps' first high-end baseball card release of 2013 will be Tribute as it unveiled the first looks and product details for the product, which is in its fifth straight year of revival after a break of several seasons.
Set to arrive on March 6, each six-pack, hit-per-pack box will include three autographed cards numbered to 99 or fewer copies along with three Relics limited to 99 or fewer copies. All will carry the familiar foilboard- and foil-stamped-feel of past releases.
The 100-card base set will be comprised of current stars and greats of the game with seven versions of parallels available per card — Blue (/99), Green (/75), Orange (/50), Gold (/25), Red (/5), Purple (1/1) and printing plates.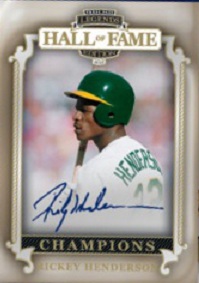 The autographed card lineup will include standard cards limited to 99 with Blue (/50), Sepia (/35), Orange (/25), Gold (/15), Red (/5), Purple and Onyx (1/1s) parallels, while every card also will have printing plates, too. The Tribute to the Stars autographs will showcase top active and retired players with standard cards limited to just 24 copies and only a Purple 1/1 parallel to be found. New this year on the autograph front will be Best of the Best autographs limited to just five copies apiece each with textured cards based on the types of achievements. Pitchers will have a card textured like a baseball, while base-stealers' cards will emulate bags, hitters will look and feel like wood and fielder cards will look like gloves.
Also new for the  ink will be framed mini autographs of current and retired players each limited to 25, while Timeless Tribute cards return, pairing two players from the past and present. New there will be a Purple parallel 1/1, while a lineup of cut signature cards will round out that list.
Over on the game-used memorabilia side, there are some newer jumbo-style inclusions that include batting glove Relics, which will be limited to just two copies apiece — one for each hand. Also new will be Tribute Transitions Relics — duals that pair new and old players — along with 1/1 bat knobs and 1/1 bat nameplates. Commemorative Cuts Relics will be limited to just 99 copies, each highlighting a memorable moment in a player's career, while Retired Remnants also will feature single swatches and be limited to the same amount. Superstar Swatches will include two swatches. All of these will have parallels, as is routine with Tribute, with Blue (/50), Orange (/25), Gold (/15), Red (/10) and Purple 1/1s to be found.
Also in the  product will be Prime Patches Relics — cards limited to 24 or fewer copies — each also with 1/1 Purple paralells, while Tribute to the Stars Relics will highlight current and retired guys also with five parallels — Orange (/50), Green (/40), Gold (/25), Sepia (15), Red Patch (/10) and Purple Patch (1/1).
Chris Olds is the editor of Beckett Baseball magazine. Have a comment, question or idea? Send an email to him at colds@beckett.com. Follow him on Twitter by clicking here.