First look: 2013 Topps Tier One baseball cards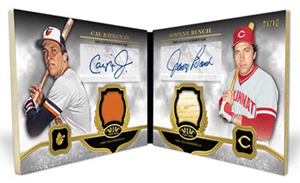 By Chris Olds | Beckett Baseball Editor
Tier One is back for Year Three.
Topps released the first images and basic product information for this high-end brand on Friday, which will be back for a third season in 2013 after a bit of a revamp this year.
Set to arrive on July 13, Tier One will include two autographs and one Relic in every pack. The packs will include one On the Rise autograph and one from the following — a Tier One auto, a Crowd-pleaser, a dual or triple auto, an auto Relic or a cut. Every fourth pack will include a bonus Relic and there will be three of those per case. Each case also will guarantee a Tier One auto.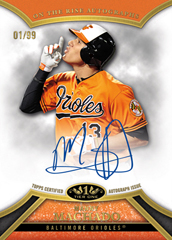 Among the signers for Tier One autos are Hank Aaron, Ken Griffey Jr., Rickey Henderson, Willie Mays, Stan Musial, Nolan Ryan and Cal Ripken Jr. for starters.
All autographs will be signed on-card in this one with standard Tier One autos limited to 199 or less. On the Rise autos, which will showcase younger talents will be limited to 399 0r fewer copies. They also will have red-ink parallels as well as silver-ink and 1/1 gold parallels to chase. The Crowd-pleasers will be limited to 299 or fewer copies.
Back again for 2013 will be the acetate reprint autographs, which will take memorable cards from the past and place them on clear plastic with a signature. They will be limited to just 25 copies. New will be over-sized versions limited to 10. Reprint autos will be found for Hank Aaron, Ryan Braun, Prince Fielder, Bob Gibson, Tony Gwynn, Rickey Henderson, Reggie Jackson, Sandy Koufax, Willie Mays, Evan Longoria, Stan Musial, Paul O'Neill, Buster Posey, Nolan Ryan, Mike Schmidt and Frank Thomas.
The dual autos will be limited to 25, while the triples will be limited to just 10. A total of 25 players will appear on cuts — all 1/1s.
On the Relic side, there will be no more than 99 copies of the standard autographed Relic cards, while dual patches (/25) and 1/1 triple patches will be found as parallels. Also t be found are Prodigious Patches limited to 10 and 25 1/1 bat knob Relics. For booklet fans, there will be dual autographed Relics, each limited to 10.
For unsigned Relics, there will be no more than 399 per card with dual parallels limited to 99 and triples limited to 25. Legends Relics will be 99 for standard cards, 25 for duals and five copies for triples. These also will have Prodigious Patches — all limited to 10. There also will be unsigned bat knobs, all 1/1s, and jumbo All-Star Relics that are also one-of-a-kind cards.
Among those on On the Rise autos will be Matt Adams, Manny Machado, Mike Olt, Michael Pineda, Jurickson Profar, Tyler Skaggs, Brett Lawrie, Todd Frazier, Yu Darvish, Yoenis Cesdedes and Dylan Bundy to name a few.
Among the Crowd-pleasers will be Albert Belle, Jose Bautista, Robinson Cano, Will Clark, R.A. Dickey, Tim Hudson, Al Kaline, Juan Marichal, David Wright and Mike Moustakas for starters.
Chris Olds is the editor of Beckett Baseball magazine. Have a comment, question or idea? Send an email to him at colds@beckett.com. Follow him on Twitter by clicking here.