First look: 2013 Topps Supreme Football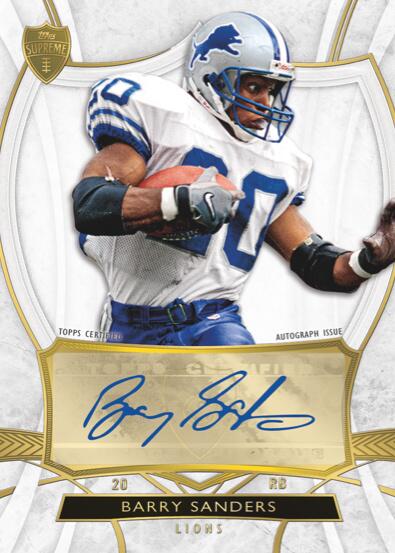 By Susan Lulgjuraj | Beckett Football Editor
With just four cards in every box, Topps is looking to pack what it can in 2013 Supreme Football.
Each pack will contain one base, two parallels and one hit, which could be an autograph, autographed relic or relic card in the late-February release.
The hits in Supreme will be low-numbered with a variety of subsets to pull.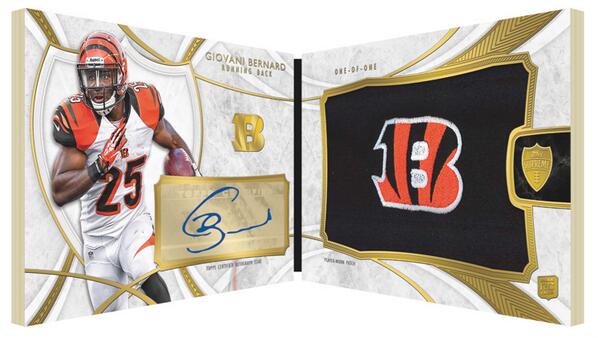 Supreme will feature up to 40 players including rookies, veterans and greats on the Autographed Relic Card checklist.
Autographed Relics will all be sequentially numbered with Blue Patch (numbered to 25), Violet Patch (numbered to 10) and Red Patch (1-of-1) parallels. There will also be Quad Relic and Autographed Jumbo Patch Relic Cards.
One of the big finds will be 1-of-1 Autographed Team Logo Patch Book Cards.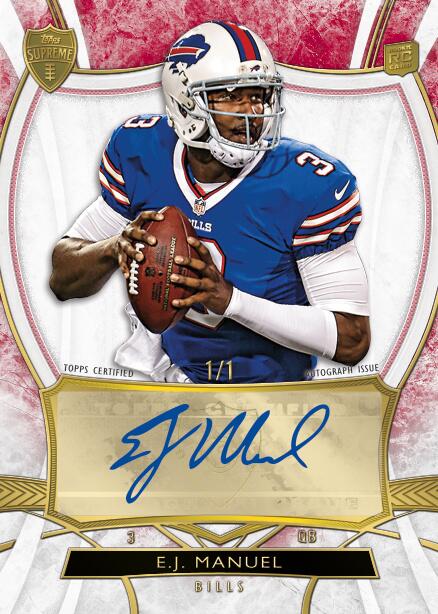 Autographed Rookie Cards will came with a base and five parallels (none numbered greater than 40), including Printing Plates.
Topps will include a box topper in some cases with Autographed QB Playbook Book Cards: oversized book cards with a quarterback autograph along with his hand-drawn favorite play in silver ink on a black background – numbered to five.
Also, collectors could find Nickname Autograph Book Cards on a box topper.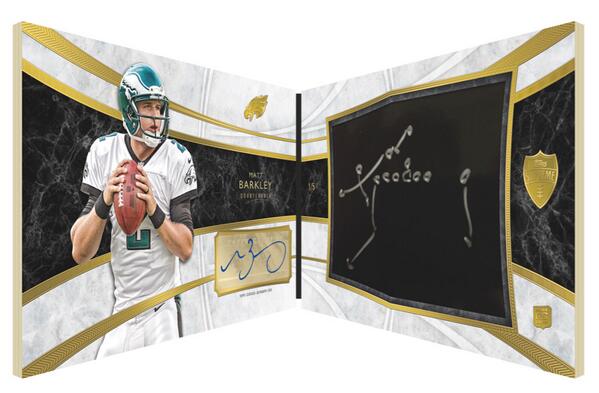 Autographs won't be only of the solo variety. Topps will include Dual, Quad, Six Double-Sided and Eight Book autograph cards. Other book cards include Supreme Rookie Dual Die-Cut Relics and Dual Autograph Patches.
Rookies won't be the only ones getting any love. Retired stars and veterans will also have autographs in Supreme. Up to 35 players will appear on the checklist. These cards will feature Blue (numbered to 20), Violet (numbered to 5) and 1-of-1 Red parallels and Printing Plates.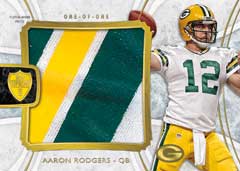 Relic Cards will have rookies and veterans on its checklist with Supreme Rookie Die-Cut Relics, Jumbo Supreme Patches, Letter Patch Cards and Primary Pieces Relics Cards featuring unique relics. Multi-relics include Veteran Quad Relics, Rookie Quad Relics and Rookie Quad Combo Relics.
Supreme's base configuration will be a little different with two parallels in every pack. Parallels include Blue, Violet (numbered to 125), Sepia (numbered to 99) Green (numbered to 50), Red (1-of-1) and Printing Plates (1-of-1).
Susan Lulgjuraj is an editor at Beckett Media. You can email her here with questions, comments or ideas. Follow her on Twitter here. Follow Beckett Media on Facebook and Twitter.