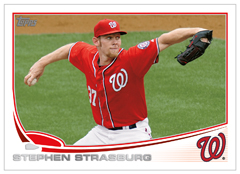 By Chris Olds | Beckett Baseball Editor
Series 1 is coming soon, but it's never too soon to see Series 2.
Topps released the basic product info and offered the first glimpses at its 2013 Topps Series 2 baseball cards on Thursday, the second installment of the chase-driven flagship brand that will arrive later this month.
Series 2, however, will be a June 12 release with 36 packs and one autograph or Relic card in each hobby box. Each 10-pack jumbo box will contain one auto and two Relics.
The second installment of "The Chase" will focus on Ted Williams and the quest for a .400 season with new Chasing History Jumbo Relics and dual Relics as well. Williams will be the focus of The Greatest Chase, a selection of cut auto Relics that will be limited to just five copies. A Relic set will be limited to 50 copies per card.
As with Series 1, the base set will consist of 330 cards with the standard Gold and Black parallels found for the last few years along with the Pink, Desert Camo, Silks, Platinum 1/1 and printing plate parallels. Printing plates, Blacks and Silks will be hobby-only.  Meanwhile, Emerald Foil parallels will be found one in every six packs across the run.
New for Series 2 will be World Baseball Classic inserts — 15 players from the upcoming event in their international unis — along with a new batch of 1972 minis, Chasing History, Making their Mark, Cut to the Chase and Elite inserts that started in Series 1.
A Chase it Down insert will showcase notable fielders and memorable plays in the outfield.
There will be manufactured Relic cards found one per hobby case — as in Series 1 — with MVP Award Winners, Silver Sluggers and Proven Mettle inserts.
Autographs will be found for all of the inserts — 1972 Minis, Chasing History, Making their Mark, Cut to the Chase, Elite and Chase it Down. Nearly all of these sets will be limited to just 10 copies per card. Autographed Relics will include the same sets but will be limited to either 25 (Chasing History, Making Their Mark) or five.
Standard Relics also will be rarer in this one with all but two of the sets being serial-numbered. Most are limited to 50 or 25 copies per card.
Elite Relics will be limited to 25 as well Chase it Down. Meanwhile, Own the Name will own the game with more than 500 1/1 letter patches to be found in the product. There also will be 15 redemption cards for a complete game-used item in the product.
The Ultimate Chase that begins in Series 1 continues here with 20 more 1/1 deluxe cards — cut auto Relics, signed patches and so on — cards that have a feel belonging to some of the company's other higher-end brands.
Chris Olds is the editor of Beckett Baseball magazine. Have a comment, question or idea? Send an email to him at colds@beckett.com. Follow him on Twitter by clicking here. Follow Beckett Media on Facebook here.
A raw preliminary checklist as released by Topps is below (subject to change). (No card numbers yet in many instances.)

Base cards
Pedro
Alvarez
Pittsburgh Pirates®
James
Loney
Tampa Bay Rays™
Elvis
Andrus
Texas Rangers®
Ryan
Ludwick
Cincinnati Reds®
Homer
Bailey
Cincinnati Reds®
Jordan
Lyles
Houston Astros®
Grant
Balfour
Oakland Athletics™
Lance
Lynn
St. Louis Cardinals®
Jose
Bautista
Toronto Blue Jays®
Ryan
Madson
Angels®
Brandon
Belt
San Francisco Giants®
Nick
Markakis
Baltimore Orioles®
Carlos
Beltran
St. Louis Cardinals®
Leonys
Martin
Texas Rangers®
Rafael
Betancourt
Colorado Rockies™
Victor
Martinez
Detroit Tigers®
Gregor
Blanco
San Francisco Giants®
J.D.
Martinez
Houston Astros®
Domonic
Brown
Philadelphia Phillies®
James
McDonald
Pittsburgh Pirates®
Jay
Bruce
Cincinnati Reds®
Kris
Medlen
Atlanta Braves™
John
Buck
New York Mets®
Devin
Mesoraco
Cincinnati Reds®
Mark
Buerhle
Toronto Blue Jays®
Wade
Miley
Arizona Diamondbacks®
Madison
Bumgarner
San Francisco Giants®
Tom
Milone
Oakland Athletics™
Brett
Butler
Kansas City Royals®
Jesus
Montero
Seattle Mariners™
Asdruba
Cabrera
Cleveland Indians®
Matt
Moore
Tampa Bay Rays™
Miguel
Cabrera
Detroit Tigers®
Logan
Morrison
Miami Marlins™
Melky
Cabrera
Toronto Blue Jays®
Justin
Mourneau
Minnesota Twins®
Trevor
Cahill
Arizona Diamondbacks®
David
Murphy
Texas Rangers®
Lorenzo
Cain
Kansas City Royals®
Hiro
Nakajima
Oakland Athletics™
Matt
Cain
San Francisco Giants®
Ricky
Nolasco
Miami Marlins™
Robinson
Cano
New York Yankees®
Bud
Norris
Houston Astros®
Chris
Carpenter
St. Louis Cardinals®
Derek
Norris
Oakland Athletics™
Santiago
Cassila
San Francisco Giants®
Eduardo
Nunez
New York Yankees®
Wellington
Castillo
Chicago Cubs®
David
Ortiz
Boston Red Sox®
Yoenis
Cespedes
Oakland Athletics™
Jonathan
Papelbon
Philadelphia Phillies®
Jhoulys
Chacin
Colorado Rockies™
Jake
Peavy
Chicago White Sox®
Aroldis
Chapman
Cincinnati Reds®
Carlos
Pena
Houston Astros®
Wei-Yin
Chen
Baltimore Orioles®
Wily
Peralta
Milwaukee Brewers™
Lonnie
Chisenhall
Cleveland Indians®
Chris
Perez
Cleveland Indians®
Steve
Cishek
Miami Marlins™
Salvador
Perez
Kansas City Royals®
Carl
Crawford
Los Angeles Dodgers®
Vinnie
Pestano
Cleveland Indians®
Coco
Crisp
Oakland Athletics™
Andy
Pettitte
New York Yankees®
Nelson
Cruz
Texas Rangers®
Brandon
Phillips
Cincinnati Reds®
Jorge
De La Rosa
Colorado Rockies™
Trevor
Plouffe
Minnesota Twins®
Ryan
Dempster
Boston Red Sox®
Placido
Polanco
Miami Marlins™
Scott
Diamond
Minnesota Twins®
Martin
Prado
Atlanta Braves™
R.A.
Dickey
Toronto Blue Jays®
David
Price
Tampa Bay Rays™
Matt
Dominguez
Houston Astros®
Albert
Pujols
Angels®
Adam
Dunn
Chicago White Sox®
Carlos
Quentin
San Diego Padres™
Nate
Eovaldi
Miami Marlins™
Alexei
Ramirez
Chicago White Sox®
Mike
Fiers
Milwaukee Brewers™
Hanley
Ramirez
Los Angeles Dodgers®
David
Freese
St. Louis Cardinals®
Aramis
Ramirez
Milwaukee Brewers™
Kyuji
Fujikawa
Chicago Cubs®
Ben
Revere
Philadelphia Phillies®
Brett
Gardner
New York Yankees®
Mariano
Rivera
New York Yankees®
Matt
Garza
Chicago Cubs®
Fernando
Rodney
Tampa Bay Rays™
Johnny
Giavotella
Kansas City Royals®
Wandy
Rodriguez
Pittsburgh Pirates®
Paul
Goldschmidt
Arizona Diamondbacks®
Burce
Rondon
Detroit Tigers®
Johnny
Gomes
Boston Red Sox®
Wilin
Rosario
Colorado Rockies™
Carlos
Gomez
Milwaukee Brewers™
Cody
Ross
Arizona Diamondbacks®
Gio
Gonzalez
Washington Nationals®
Justin
Ruggiano
Miami Marlins™
BASE CARDS
Anthony
Gose
Toronto Blue Jays®
Carlos
Ruiz
Philadelphia Phillies®
Yasmani
Grandal
San Diego Padres™
Annibal
Sanchez
Detroit Tigers®
Zack
Greinke
Los Angeles Dodgers®
Pablo
Sandoval
San Francisco Giants®
A.J.
Griffin
Oakland Athletics™
Ervin
Santana
Kansas City Royals®
Franklin
Gutierrez
Seattle Mariners™
Johan
Santana
New York Mets®
Roy
Halladay
Philadelphia Phillies®
Sergio
Santos
Toronto Blue Jays®
Cole
Hamels
Philadelphia Phillies®
Marco
Scutaro
San Francisco Giants®
Josh
Hamilton
Angels®
Jean
Segura
Milwaukee Brewers™
Jason
Hammel
Baltimore Orioles®
Andrelton
Simmons
Atlanta Braves™
Joel
Hanrahan
Boston Red Sox®
Travis
Snider
Pittsburgh Pirates®
Tommy
Hanson
Angels®
Donovan
Solano
Miami Marlins™
J.J.
Hardy
Baltimore Orioles®
Alfonso
Soriano
Chicago Cubs®
Matt
Harrison
Texas Rangers®
Drew
Storen
Washington Nationals®
Corey
Hart
Milwaukee Brewers™
Dan
Straily
Oakland Athletics™
Matt
Harvey
New York Mets®
Stephen
Strasburg
Washington Nationals®
Chase
Headley
San Diego Padres™
Huston
Street
San Diego Padres™
Derek
Holland
Texas Rangers®
Mark
Trumbo
Angels®
Phillip
Humber
Houston Astros®
Troy
Tulowitzki
Colorado Rockies™
Torii
Hunter
Detroit Tigers®
Justin
Turner
Miami Marlins™
Ryu
Hyun-Jin
Los Angeles Dodgers®
B.J.
Upton
Atlanta Braves™
Omar
Infante
Detroit Tigers®
Shane
Victorino
Boston Red Sox®
Hisashi
Iwakuma
Seattle Mariners™
Neil
Walker
Pittsburgh Pirates®
Austin
Jackson
Detroit Tigers®
Brett
Wallace
Houston Astros®
Ubaldo
Jimenez
Cleveland Indians®
CJ
Wilson
Angels®
Josh
Johnson
Toronto Blue Jays®
Travis
Wood
Chicago Cubs®
Ian
Kinsler
Texas Rangers®
David
Wright
New York Mets®
Peter
Kozma
St. Louis Cardinals®
Chris
Young
Oakland Athletics™
Jason
Kubel
Arizona Diamondbacks®
Jordan
Zimmermann
Washington Nationals®
CHASING HISTORY INSERT
50 Subjects, TBD
1972 TOPPS MINIS INSERT
50 Subjects, TBD
MAKING THEIR MARK INSERT
25 Subjects, TBD
CUT TO THE CHASE INSERT
25 Subjects, TBD
The Elite
Ernie
Banks
Chicago Cubs®
Willie
Mays
San Francisco Giants®
Johnny
Bench
Cincinnati Reds®
Joe
Morgan
Cincinnati Reds®
Ryan
Braun
Milwaukee Brewers™
Buster
Posey
San Francisco Giants®
Miguel
Cabrera
Detroit Tigers®
Jackie
Robinson
Brooklyn Dodgers®
Lou
Gehrig
New York Yankees®
Babe
Ruth
New York Yankees®
Bob
Gibson
St. Louis Cardinals®
Nolan
Ryan
Texas Rangers®
Rickey
Henderson
Oakland Athletics™
Mike
Schmidt
Philadelphia Phillies®
Reggie
Jackson
New York Yankees®
Ozzie
Smith
St. Louis Cardinals®
Sandy
Koufax
Los Angeles Dodgers®
Ted
Williams
Boston Red Sox®
MVP MANUFACTURED RELICS
10 Subjects, TBD
SILVER SLUGGER MANUFACTURED RELICS
15 Subjects, TBD
PROVEN METTLE COIN CARDS
25 Subjects, TBD
AUTOGRAPHS AND/OR AUTOGRAPH RELICS FROM THE FOLLOWING PLAYERS AND MORE!
Ernie
Banks
Chicago Cubs®
Manny
Machado
Baltimore Orioles®
Trevor
Bauer
Cleveland Indians®
Will
Middlebrooks
Boston Red Sox®
Johnny
Bench
Cincinnati Reds®
Mike
Olt
Texas Rangers®
Ryan
Braun
Milwaukee Brewers™
Brandon
Phillips
Cincinnati Reds®
Dylan
Bundy
Baltimore Orioles®
Johnny
Podres
Brooklyn Dodgers®
Miguel
Cabrera
Detroit Tigers®
Jurikson
Profar
Texas Rangers®
Yoenis
Cespedes
Oakland Athletics™
Wilin
Rosario
Colorado Rockies™
Ken
Griffey Jr.
Seattle Mariners™
Nolan
Ryan
Texas Rangers®
Rickey
Henderson
Oakland Athletics™
Mike
Schmidt
Philadelphia Phillies®
Jason
Heyward
Atlanta Braves™
Jean
Segura
Milwaukee Brewers™
Reggie
Jackson
New York Yankees®
Tyler
Skaggs
Arizona Diamondbacks®
Jason
Kipnis
Cleveland Indians®
Duke
Snider
Brooklyn Dodgers®
Sandy
Koufax
Los Angeles Dodgers®
David
Wright
New York Mets®
Relics
Elvis
Andrus
Texas Rangers®
Matt
Holliday
St. Louis Cardinals®
Darwin
Barney
Chicago Cubs®
Tim
Lincecum
San Francisco Giants®
Yogi
Berra
New York Yankees®
Brian
McCann
Atlanta Braves™
Chad
Billingsley
Los Angeles Dodgers®
Devin
Mesoraco
Cincinnati Reds®
Jay
Bruce
Cincinnati Reds®
Mike
Minor
Atlanta Braves™
Billy
Butler
Kansas City Royals®
Hunter
Pence
San Francisco Giants®
Matt
Cain
San Francisco Giants®
Brandon
Phillips
Cincinnati Reds®
Starlin
Castro
Chicago Cubs®
David
Price
Tampa Bay Rays™
Yoenis
Cespedes
Oakland Athletics™
Hanley
Ramirez
Los Angeles Dodgers®
Jhoulys
Chacin
Colorado Rockies™
CC
Sabathia
New York Yankees®
Ian
Desmond
Washington Nationals®
Max
Scherzer
Detroit Tigers®
Prince
Fielder
Detroit Tigers®
Gary
Sheffield
Florida Marlins®
Matt
Garza
Chicago Cubs®
Stephen
Strasburg
Washington Nationals®
Adrian
Gonzalez
Los Angeles Dodgers®
Daryl
Strawberry
New York Yankees®
Alex
Gordon
Kansas City Royals®
Justin
Verlander
Detroit Tigers®
Felix
Hernandex
Seattle Mariners™
Vernon
Wells
Angels®