First look: 2013 Topps Series 2 baseball cards (with preliminary checklist)
Series 1 is coming soon, but it's never too soon to see Series 2.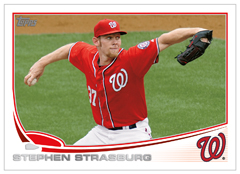 Topps released the basic product info and offered the first glimpses at its 2013 Topps Series 2 baseball cards on Thursday, the second installment of the chase-driven flagship brand that will arrive later this month.
Series 2, however, will be a June 12 release with 36 packs and one autograph or Relic card in each hobby box. Each 10-pack jumbo box will contain one auto and two Relics.
The second installment of "The Chase" will focus on Ted Williams and the quest for a .400 season with new Chasing History Jumbo Relics and dual Relics as well. Williams will be the focus of The Greatest Chase, a selection of cut auto Relics that will be limited to just five copies. A Relic set will be limited to 50 copies per card.
As with Series 1, the base set will consist of 330 cards with the standard Gold and Black parallels found for the last few years along with the Pink, Desert Camo, Silks, Platinum 1/1 and printing plate parallels. Printing plates, Blacks and Silks will be hobby-only.  Meanwhile, Emerald Foil parallels will be found one in every six packs across the run.
New for Series 2 will be World Baseball Classic inserts — 15 players from the upcoming event in their international unis — along with a new batch of 1972 minis, Chasing History, Making their Mark, Cut to the Chase and Elite inserts that started in Series 1.
A Chase it Down insert will showcase notable fielders and memorable plays in the outfield.
There will be manufactured Relic cards found one per hobby case — as in Series 1 — with MVP Award Winners, Silver Sluggers and Proven Mettle inserts.
Autographs will be found for all of the inserts — 1972 Minis, Chasing History, Making their Mark, Cut to the Chase, Elite and Chase it Down. Nearly all of these sets will be limited to just 10 copies per card. Autographed Relics will include the same sets but will be limited to either 25 (Chasing History, Making Their Mark) or five.
Standard Relics also will be rarer in this one with all but two of the sets being serial-numbered. Most are limited to 50 or 25 copies per card.
Elite Relics will be limited to 25 as well Chase it Down. Meanwhile, Own the Name will own the game with more than 500 1/1 letter patches to be found in the product. There also will be 15 redemption cards for a complete game-used item in the product.
The Ultimate Chase that begins in Series 1 continues here with 20 more 1/1 deluxe cards — cut auto Relics, signed patches and so on — cards that have a feel belonging to some of the company's other higher-end brands.