2013 Topps Museum Collection Baseball Details
2013 Topps Museum Collection Baseball is a high-end release that's in its second season under this name.
Each pack includes three base cards, one parallel and one autograph or Relic. There will be four packs per box. Every box has one autograph — signed on-card — one autographed Relic, one jumbo Relic and a quad Relic, while every case will include a jumbo autographed Relic and one Museum Collection autograph.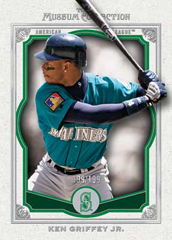 The base set will consist of 100 cards with players from the past and present with four colors of parallels to be found — Red (1/1), Blue (/99). Green (/199) and Copper (one per pack).
Insert-wise, 50 players will be showcased on Canvas Collection cards with those cards limited to just 10 cards — these are original pieces of art — while a reproduction version of the cards will be found one per box.
Interestingly, perhaps because of Yu Darvish, Topps notes on its sales materials that "a percentage of this product will be packaged … and sold exclusively in Japan."
New this year on the autograph side will be Archival Autographs Sepia parallels, which will be limited to just five copies, and Triple autos with, as the name indicates, three sigs per card (also limited to five). Back are Archival Autographs, Gold parallels limited to five and Dual autos that will be limited to just 15.
Among the players slated to sign, according to the preliminary checklist, are Willie Mays, Cal Ripken Jr., Ken Griffey Jr., Rickey Henderson, Trevor Bauer, Johnny Bench, Andre Dawson, Jim Rice, Dennis Eckersley, R.A. Dickey, Al Kaline, Giancarlo Stanton, Evan Longoria, Yoenis Cespedes and Darvish among others.
A selection of 20 players will be found on cut autographs in this one — all 1/1s — while Museum Collection autos will showcase more than 50 players and be found with Gold (/15), Silver (/10) and Black (/5) frames.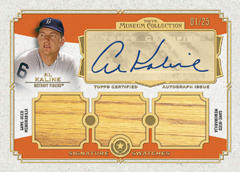 Over on the autographed Relic side, there will be Signature Swatches dual Relics — two pieces and a sig — along with Gold parallels (/25) and Patch parallels limited to five. Triples will also be found with Golds and Patches found in the same quantities. Momentous Material Jumbo Relics will return with autos — found one per case and limited to 10 copies — while Quad Relic autos will be limited to just 10 copies.
On the Relic side, the Momentous Materials also return with standard jumbo Relics limited to 50. They will have Gold (/35), Silver Rainbow (/10) and Gold (1/1) parallels. Jumbo Lumber cards also return with standard cards limited to 30, Golds limited to 20, Rainbows limited to five and Golds limited to one.
As with other products for 2013, Topps has upped its amount of high-end Relics with a new addition this year being nameplates from game-used bats (1/1s), Laundry Tag Relics (U.S.-only release) which are 1/1s, Jumbo Patch Relics (/5) and Museum Memorabilia 1/1s with other notable pieces attached.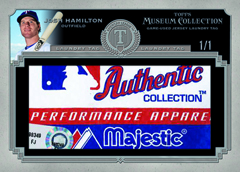 Bat nameplate players will include Ernie Banks, Jose Bautista, Ryan Braun, Triple Crown winner Miguel Cabrera, Robinson Cano, Carlton Fisk, Ken Griffey Sr., Josh Hamilton, Jason Heyward and Clayton Kershaw to name a few. Laundry Tag players will include Dustin Ackley, Braun, Cano, Darvish, Prince Fielder, Hamilton, Bryce Harper, Todd Helton, Ryan Howard, Tim Hudson, Buster Posey and Barry Zito to name a few.
For booklet cards, on the Jumbo Relic side, there will be 30 Dual Jumbo Relic booklets featuring memorabilia pieces, while Dual Jumbo Lumber Relic booklets also will be limited to just five copies. More than 50 players will be found on Primary Pieces Quad Relics with these booklets limited to 99, Copper parallels limited to 75 and Golds limited to 25. Quad Patch Relics will be limited to just five copies per player.
For quad Relics, there will be Primary Pieces quads for 20 legends of the game, each limited to just 25 along with a Gold parallel limited to just five, while a selection of 25 other players will get the same treatment but be limited to 99 copies apiece with Copper (/75) and Gold (/25) versions to find. Patch Relics will also be limited to five for those players.
New this year will be box-toppers with oversized jersey Relic nameplates one option. These 1/1s will be found for 20 notable players, while Topps is adding Canvas Collection art reproductions printed and "framed" like the Museum Collection cards. Those will be limited to 25 copies, while an autographed verison of those cards will be limited to just five.