First look: 2013 Topps MLB Chipz (with checklist)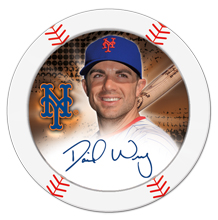 By Chris Olds | Beckett Baseball Editor
You might want to let the chips fall where they may, but in this case there are autographs and Relics to protect.
Topps unveiled a new and unusual baseball product for 2013 on Wednesday — 2013 Topps MLB Chipz, a game that revolves around poker-style chips that have autographs, Relics and other chase versions among the offerings.
Set to arrive in May, Chipz will include four chips and one game board per pack with 36 packs per gravity box. The retail price should be less than $3 per pack based on factory cost.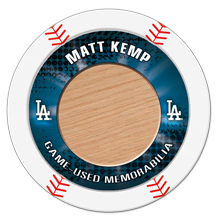 There will be 10 autographed Chipz along with 10 Relic Chipz to chase with 100 standard chips also to be found. Each standard chip will include a Glow in the Dark and a Magnetic version. Magnetics will be found one in every four packs, while glowers will be found in every other pack. Also to be found are Gold and Silver versions of the standard chips, which will be one in three and one in four packs respectively.
Relic Chipz will include: Jay Bruce, Josh Hamilton, Evan Longoria, Ian Kinsler, Pablo Sandoval, Dan Uggla, Elvis Andrus, Adam Jones, Brooks Robinson and Tony Gwynn. These will be limited to just 50 serial-numbered copies.
Autograph Chipz will include: R.A. Dickey, Dustin Pedroia, David Wright, Mark Trumbo, Prince Fielder, David Freese, Buster Posey, Starling Marte, Paul Goldschmidt and Jose Bautista. These will be limited to just 25 serial-numbered copies.
This isn't the first time Topps has brought chips to the sports world. In 2005, it released a set of NBA chips which had a relatively deep checklist and plenty of chase chips.
Chris Olds is the editor of Beckett Baseball magazine. Have a comment, question or idea? Send an email to him at colds@beckett.com. Follow him on Twitter by clicking here.
Preliminary checklists as released by Topps
Standard, Magnetic and Glow In the Dark Chipz: Albert Pujols Jered Weaver Mark Trumbo Mike Trout Justin Upton Paul Goldschmidt Dan Uggla Craig Kimbrel Michael Bourn Brian McCann Chipper Jones Adam Jones J.J. Hardy Jon Lester Andrew Bailey Dustin Pedroia Jacoby Ellsbury David Ortiz Clay Buchholz Starlin Castro Paul Konerko Alexei Ramirez John Danks Adam Dunn Joey Votto Jay Bruce Brandon Phillips Aroldis Chapman Jason Kipnis Carlos Gonzalez Miguel Cabrera Justin Verlander Austin Jackson Prince Fielder Eric Hosmer Billy Butler Matt Kemp Clayton Kershaw Jose Reyes Giancarlo Stanton Ryan Braun Rickie Weeks John Axford Joe Mauer R.A. Dickey Johan Santana David Wright Robinson Cano Mark Teixeira CC Sabathia Curtis Granderson Alex Rodriguez Nick Swisher Derek Jeter Josh Reddick Yoenis Cespedes Roy Halladay Cliff Lee Cole Hamels Jimmy Rollins Jonathan Papelbon Andrew McCutchen Joel Hanrahan Pedro Alvarez Huston Street Tim Lincecum Matt Cain Madison Bumgarner Pablo Sandoval Buster Posey Angel Pagan Melky Cabrera Felix Hernandez Carlos Beltran Yadier Molina Jason Motte David Freese David Price James Shields B.J. Upton Evan Longoria Ben Zobrist Josh Hamilton Ian Kinsler Yu Darvish Nelson Cruz Adrian Beltre Mike Napoli Elvis Andrus Michael Young Neftali Feliz Colby Rasmus Brett Lawrie Jose Bautista J.P. Arencibia Ryan Zimmerman Michael Morse Stephen Strasburg Gio Gonzalez Bryce Harper